For creating, viewing or editing documents on the iPad, we recommend dumping iWork apps like Pages and Numbers and give Documents To Go Premium a try. It is simpler, cleaner, and easier to use. That's why we decided to make it this week's Notebooks.com iPad App of the Week.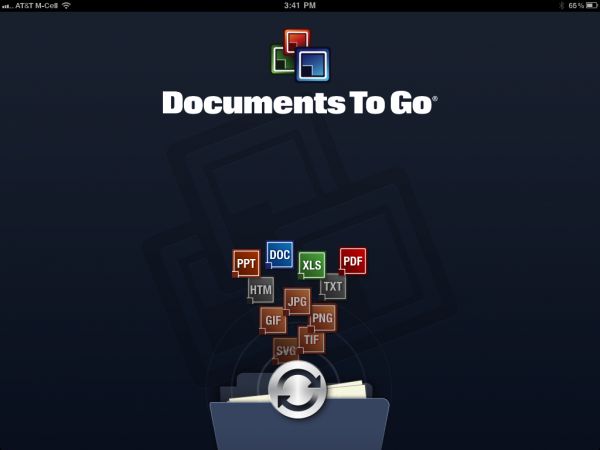 This DataViz app has been around for a long time. It predates the iPad and we used it on Windows Mobile long before we even knew Apple was making a tablet.
Who is Documents To Go Premium For?
The application is a simple document viewer and editor. It can edit Microsoft Word, Excel and PowerPoint files up to 2010/2011 formats. It can also be used to view these files and PDFs, iWork files, text documents, and most picture formats. If you use Apple's iWork applications on your computer, then Docs To Go Premium is not for you since it only views those files and won't allow editing. But if you are a Microsoft Office user then it is the best choice for viewing and editing docs on the iPad.
Editing Interface
The editing interface is simple. It has the basic paragraph and font formatting features. They are all easily accessible through the toolbar at the bottom of the screen. In Pages on the iPad you have to perform many more clicks to change simple things like fonts. In Documents To Go they are more quickly accessible.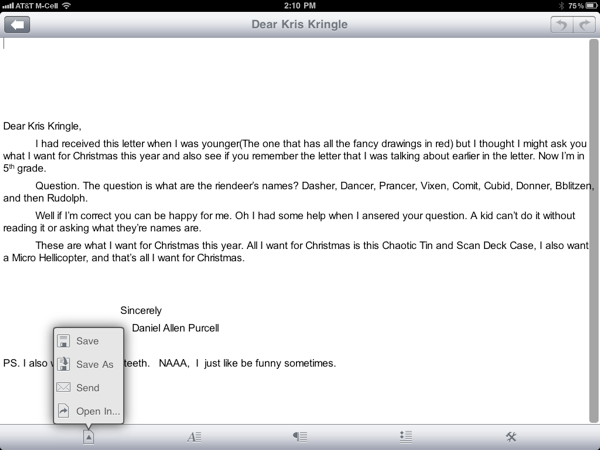 Workflow with Documents To Go
Our workflow with Documents To Go is so much easier than it was with Pages or Numbers. Using Pages documents created on a computer required that we find a way to get the document on the iPad in the first place. We chose Dropbox to open the files since we already had them in our Dropbox folder. In the Dropbox app you open the file. Then you do an "Open In" to get it into Pages (see previous link for demo).
With Documents To Go Premium all you have to do is enter your cloud sharing service credentials and you can access all the files you have stored there directly in the app. This saves a few steps and time. Documents To Go supports the following services:
Google Docs
Box.net
DropBox
iDisk
Public iDisk
SugarSync
This makes getting documents into the iPad so much easier. This feature alone makes it worth it to switch. Below is the file list from a SugarSync folder we opened.
Notice that the icons for files and folders that are stored locally are in color. Others are in greyscale. To open a file you have to first tap it to download the file. Then, tap it again to actually open the file. This is annoying. We wish the first tap actually downloaded and opened the file in one action. The blue arrow can be tapped to show information like the file size and location on the remote computer's hard drive without actually opening it.
If a person sends you a file via email, you can open it from Mail to Documents To Go for editing/viewing.
When you open a file that can be edited, you can change the font and paragraph information. You can search files, do a find/replace, add outlines and bullet lists, and more. We like the font changer which is an iOS selection wheel for both the font and the size (see below):
Once you are done editing a document, you can save it to the cloud storage or your local iPad storage. You can also save it with a different name or open it in another program.
The arrow in the upper left goes back to the file list and closes the current document. If you have edited the document, the app will offer to save it, save it as another file, or discard the changes you have made.
Keynote Still Better for Presentations
For presentations, we still think that Keynote is a better app. But if you created PowerPoint files on a desktop and want to view or edit them on your iPad, it works in Documents To Go Premium too. For creating new presentations from scratch Keynote is better. It has more features and transitions and many more templates that look better than the limited number of templates in Documents To Go Premium.
Desktop Client for Wireless Transfer of Files
If you don't want to use a cloud storage service to share files with your iPad, then you can download a tool for your computer (Mac and Windows) to import/export documents wirelessly. It is much easier to use than tethering the iPad and transferring them manually in iTunes, which is the only way to get documents into iWork apps without using a cloud service. However, we still prefer using a cloud service like DropBox or SugarSync.
Documents To Go Premium Video Review:
Pros:
Easy to use
Simple interface
Editing tool easier to access than iWork apps
Uses cloud storage services to import/export documents
Handles many file formats
One app for all office file editing instead of three with iWork apps
Handles email attachments received in Mail app
Cons:
Have to tap twice to open files from cloud storage services
Limited presentation templates
Visually less appealing than iWork apps
Advertisement