The iPad has been out for just over a week and has already been the topic of much discussion. Even as users question how the iPad will fit into their daily life and if it can replace a netbook, it is flying off store shelves faster than Apple can ship them. While you can always order an iPad from Apple.com for delivery within 5-7 business days, many potential buyers like myself prefer to look for a local store with an iPad to avoid the long shipping wait.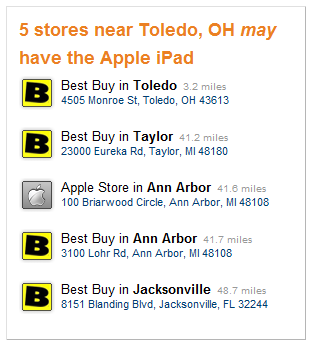 Instead of blindly calling every Best Buy, Apple Store and Specialty retailer haphazardly you can use the local shopping tool Milo to find out what stores near you may have an iPad in stock. You'll still want to call ahead and verify stock, but with Milo you'll cut your calls in half.
Milo has real time hooks into the Best Buy stock system and I have used it to locate a few nearby stores with iPads in stock, or recently in stock. You can see the selection of nearby stores that Milo identified as possibly having an iPad in stock, including the distance from my location to the right. Using Milo to find a nearby Best Buy with an iPad in stock is as simple as putting in your Zip code.
While you can do this directly from Milo.com I found that the results were better when I used the special iPad location tool on Milo to begin my search. You'll still want to call your local, or in my case 40 miles away, store to make sure they have an iPad in stock, and to make sure they have the size you want, before running out the door.
If you click on any of the results you will see a Google Maps location for the store which you can click on to find the store's direct line.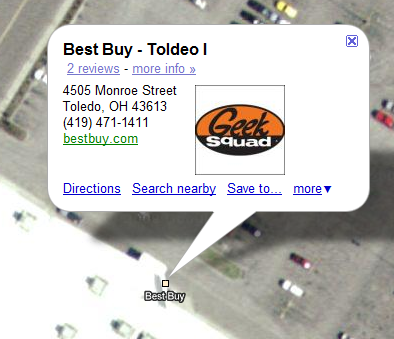 In calling several local stores this past week it is clear that when the 16GB model arrives it almost immediately flies out the door; though 32 and 64GB models are more readily available. That said, the local stock at Best Buy was here and gone in 24 hours so if you find one locally you better be prepared to buy then, or face another wait.
Advertisement