Lenovo is going to release the IdeaPad U1 Hybrid as a tablet and a dock separately in December and January respectively.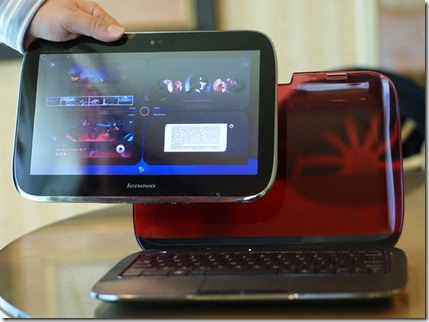 The Lenovo IdeaPad U1 Hybrid grabbed a lot of attention at CES before Lenovo put the device on ice in response to the popularity of the Apple iPad. This was the hybrid tablet-netbook that when in netbook mode ran Windows but in tablet mode ran an OS called Skylight. Lenovo decided to go back to the drawing board and the result is a 10.1-inch tablet running Android and shipping this December in China. The keyboard part will ship as a dock in January, this from Gottabemobile.
https://www.youtube.com/watch?v=cSen-_2scIA&p=3C4286B45004521A&playnext=1&index=4
The original Lenovo IdeaPad U1 Hybrid at CES
There are still some questions about this release. Will the keyboard dock part still run Windows when the tablet part is plugged into it? And will it ever be available here in the US? Finally, will the product have a chance to compete with some of the interesting new products like the Dell Inspiron Duo, a convertible tablet/netbook and of course the iPad with its keyboard docking options including this one and this one.
Advertisement