With a winter storm bearing down on a good deal of the U.S. we wanted to take a minute to make sure you're up to date on how to track the storm from your phone, iPad and laptop — even if the power goes out. While most of these methods will require power and an Internet connection if you keep your devices charged, including your cell phone, you should be able to stay up to date for some time.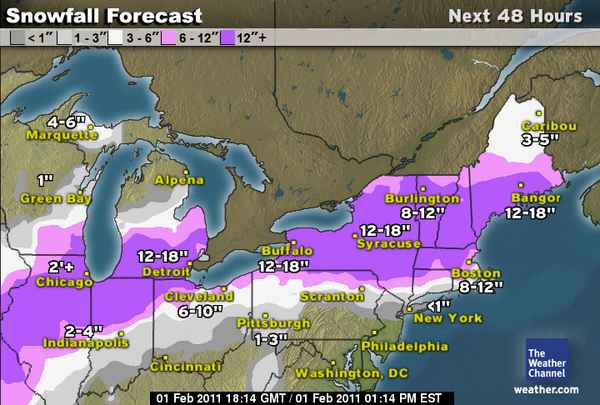 How to track the snow storm on your phone, BlackBerry, iPhone and Android:
Regular Cell Phone: If you have a regular cell phone you won't be able to pull up the radar, but you will be set for a longer time if the power goes out. To get the latest news on your local weather you can sign up for text alerts. Practically every local news station offers free text alerts for weather. If you visit their home page you can sign up to get updates on severe storm alerts for free. Keep in mind the alerts are free, but if you don't have a text message plan you will need to pay for each text.
You can also sign up for text alerts from the Weather Channel at Weather.com. You can get updates every day, or you can text them for on demand weather. To get a weather update follow these directions:
Text your zip code or city and 2 letter State abbreviation to 42278 or 78676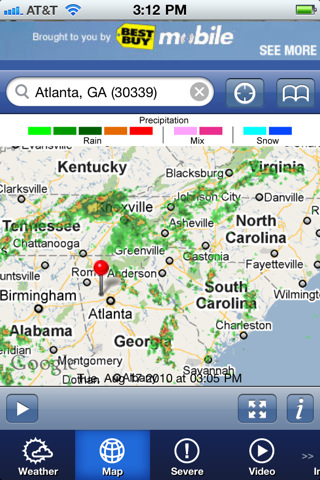 Android BlackBerry and iPhone: If you have a smartphone you have a plethora of options including the text messaging we mentioned above and access to the mobile web and apps. While your battery will likely fail faster than a regular cell phone you should be able to stay online even if your home is without power or the Internet goes down.
Our top weather picks for Android are:
Our favorite weather apps for the BlackBerry are:
Our top weather picks for the iPhone are:
How to Track storms on your iPad: With a nice large screen we really like the Weather Channel app for the iPad which makes great use of the display for radar views and delivers notifications for local sever weather alerts. There are other options, but none that compare to the ease and features of this free app.
How to Track the Storm on your Laptop: While you all know how to go to weather.com, you may face longer load times if the storm gets bad and more users are trying to track the snow. We suggest bookmarking the mobile versions of the website to have faster access. You can also do this for your local news stations. The easiest way to find these is to visit from your mobile phone or look for a link on the homepage.
To view the Weather Channel's mobile version visit: https://www.weather.com/mobile/
You can also access the NOAA Weather page here: https://mobile.weather.gov/
If you need to stay connected during the storm, check out our guide for staying connected during a winter storm.
Advertisement