Apple announced its refresh of the Apple iPod Touch today calling it "an iPhone without the contract." With all the new features of the iPod Touch it is understandable why Jobs would say that.  The device is thinner than the previous generations. Yet, on the inside it comes with the same A4 processor that makes the iPhone so much faster while still maintaining long battery life. In fact, the iPod Touch will give users up to 40 hours of music playback.
The display on the iPod Touch will be upgraded to the same beautiful Retina display that came in the iPhone 4 with 326 dpi display. Also, on the front is a camera that can be used to interact with iPhone 4 users via the Facetime service. Jobs didn't say how this will work, but there is speculation that it will be via an email address instead of a phone number.
To help with gaming and other apps, the new Touch will have the 3-axis gyroscope. This helps with games like Eliminate Gun Range, a game that simulates shooting at a gun range. With the gyroscope, control is much more granular and accurate.
On the back of the Touch will be a rear facing camera capable of shooting photos and HD video. However, the resolution of pictures is only 960×720. The iPhone has a much higher resolution 5MP camera. Now iMovie can be used to edit video right on the iPod.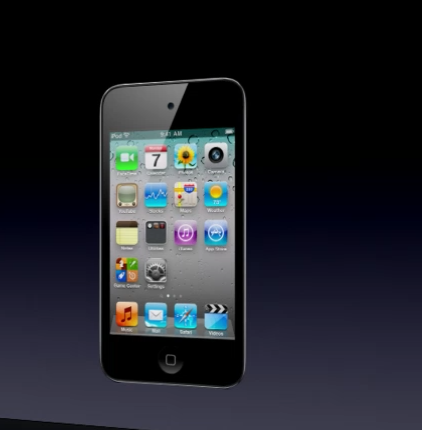 With each of the new devices, Jobs gave a retrospective of the devices history. Since its introduction the iPod Touch has become the "#1 portable game player in the world" surpassing both Sony and Nintendo in sales. It currently has more than fifty percent of the worldwide market share of the portable gaming world.
Jobs said the new iPod Touch will be available in three storage levels and is available for pre-order today with delivery happening next week.
Advertisement