Testing Dragon Dictate 2.0 for Mac disappointed us a little primarily because of a serious memory leak. After about 20 minutes of use, the program slows down to a crawl. The result is your dictation takes an unacceptable 4 or 5 seconds for each word or phrase to show up on the screen.
We found a video on YouTube that solves this problem in a very simple and elegant way. It involves adding a special shell command to Dragon Dictate's recognized list of commands. The new command is called "purge Ram."
Here is the video that shows you how to add the new command along with the steps below it.
As the producer of the video says, Dragon Dictate's memory leak sucks up all of your RAM. I have 8GB of RAM on my MacBook Pro and Dictate always eats up to 6 or 7 GB of it. This simple solution clears that out and fixes the problem. In long dictation sessions, just use the "purge RAM" command every ten minutes.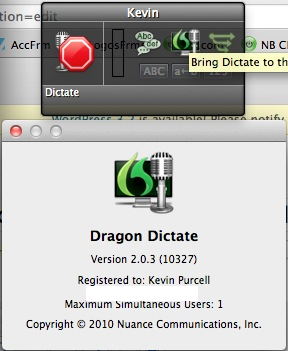 The steps are as follows:
First open Dragon Dictate
From the file men choose New Command
In the Command Name box type the words "purge RAM"
Give the command a description if you want
From the Context drop-down menu choose Global
In the Type Context menu choose Shell Script
In the large empty box below the drop-down menus insert the words "purge Ram"
Now save the command
Whenever you notice Dragon Dictate slowing down, just say the phrase "purge RAM". The whole system will pause for about 10 to 20 seconds. Once finished you should notice Dragon Dictate working much more smoothly.
This won't solve some of the other problems we found with Dragon Dictate 2.0 for Mac in our review. But this solves the biggest issue and makes the program usable for those who cannot type, or cannot type faster than they can dictate with the program.
Advertisement