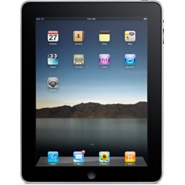 Apple is selling every version of the iPad for $50 off in its refurbished online store. Before you shun refurbished goods, you should have a full understanding of what Apple considers refurbished. If an Apple iPad is at the top of your holiday wish list, you'll be hard pressed to dinf a better deal than this.
The base Apple iPad comes with 16GB of memory and normally costs $499. With the $50 discount, the price is $449. On the high end of the iPad, the 64GB WiFi + 3G is $779.
Apple's refurbished products are items that may have been returned by customers, used as demo units or otherwise returned to Apple. For example, a damaged box will earn an iPad a one-way trip to Apple's refurbished program, even if the iPad itself is not damaged.
With Apple's refurbished program, you aren't getting someone else's unwanted goods. You're actually getting pretty much a brand new machine. In the case of a refurbished iPad, Apple replaces the entire outer shell and a new battery is installed. The only thing 'used' about it may be the guts of the iPad. The iPads are then thoroughly tested before being repackaged and sold at a discount. In fact, several Apple employees have told me that refurbished products have fewer problems than brand new products because of this testing program.
Some of the products from Apple's refurbished and clearance center ship in slightly different packaging to differentiate them from brand new stock.
Regardless of whether you pay $449 or $499 for a 16GB Apple iPad you'll get a full one year warranty. You can use the money you save to load up on discounted iPad apps.
Apple does not offer deep discounts on Black Friday or any other special occasion. Apple tries to maintain a premium postion in the marketplace and is careful not to undercut its numerous resellers. You can read more about why you won't see any deep discounts during Apple's Black Friday sale here.
Visit Notebooks.com's Apple Black Friday page for more Mac and iOS4 Black Friday deals.
Advertisement