During Black Friday Apple will be running a special one day sales event on November 26th and many Apple resellers like Best Buy, MacMall and others will also be offering Black Friday discounts on the iPod, iPad, MacBook, MacBook Pro and MacBook Air. Most of the Apple laptop deals will be easy to compare across retailers since they are standard models, but you will find different types of Apple deals for Black Friday 2010. Here's a quick guide on what to look for in an Apple laptop this Black Friday
UPDATE: Notebooks.com is giving away a 32GB iPod Touch to one of our lucky readers to celebrate Black Friday! Click here to visit the iPod Touch Giveaway Page to enter to win!

Apple Black Friday Laptop Models
During Black Friday you will see several configurations of the MacBook, MacBook Pro and MacBook Air discounted. Black Friday Apple deals range from $20 off the MacBook Air to over $150 off the high end MacBook Pro models. The table below will let you sort the Apple notebook sales for Black Friday 2010 by store, price, memory and processor.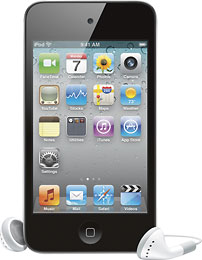 Apple iPod Black Friday Deals
Also on sale during Black Friday are several iPod models. Most of these deals involve a gift card or iTunes gift certificate with the purchase of an iPod Nano or iPod Touch.
Where to Buy Apple Laptops on Black Friday
Apple is holding a Black Friday sales event on November 26th starting at 8 AM in retail stores and online, but don't expect substantial savings.
The Apple Black Friday deals will be found at Apple resellers like Amazon, Best Buy, MacMall, Buy.com and others. While you will find some discounts, many of the deals will include a gift card instead of an upfront discount on the MAcBook, MacBook Pro or MacBook Air.
Apple Black Friday Deals: (Click on table header to sort)
Store
Black Friday

Laptop Models

Price
Processor Brand
Processor Type
RAM
Hard Drive
Brand
Screen Size
Apple
Apple MacBook Pro 13.3-Inch Laptop 2.4GHz
$1,098
Intel
Core 2 Duo
4
250
Apple
13.3
Apple
Apple MacBook Pro 13.3-Inch Laptop 2.66GHz
$1,398
Intel
Core 2 Duo
4
320
Apple
13.3
Apple
Apple MacBook Pro 15-Inch Laptop 2.4GHz
$1,698
Intel
Core i5
4
320
Apple
15.4
Apple
Apple MacBook Pro 15-Inch Laptop 2.53GHz
$1,898
Intel
Core i5
4
500
Apple
15.4
Apple
Apple MacBook Pro 15-Inch Laptop 2.66GHz
$2,098
Intel
Core i7
4
500
Apple
15.4
Apple
Apple MacBook Pro 17-Inch Laptop 2.53GHz
$2,198
Intel
Core i5
4
500
Apple
15.4
Amazon
Apple MacBook MC516LL/A 13.3-Inch Laptop
$939.00
Intel
Core 2 Duo
2
250
Apple
13.3
Amazon
Apple MacBook Pro 13-inch 2.4GHz MC374LL/A
$1,112.00
Intel
Core 2 Duo
4
250
Apple
13.3
Amazon
Apple MacBook Pro 13-inch 2.66GHz MC375LL/A
$1,429.00
Intel
Core 2 Duo
4
320
Apple
13.3
Amazon
Apple MacBook Pro MC371LL/A 15.4-Inch
$1,705.00
Intel
Core i5
4
320
Apple
15
Amazon
Apple MacBook Pro 15-inch 2.53GHz MC372LL/A
$1,858.00
Intel
Core i5
4
500
Apple
15
Amazon
Apple MacBook Pro 15-inch 2.66GHz MC373LL/A
$2,043.00
Intel
Core i5
4
500
Apple
15
Amazon
Apple MacBook Air MC505LL/A 11.6-Inch w. 1.2GHZ 64GB SSD 2 GB RAM
$979.00
Intel
Core 2 Duo
2
64
Apple
11.6
Amazon
Apple MacBook Air MC506LL/A 11.6-Inch w. 1.4GHZ 128GB SSD 2GB RAM
$1,160.00
Intel
Core 2 Duo
2
128
Apple
11.6
Amazon
Apple MacBook Air MC504LL/A 13.3-Inch w. 1.86GHz 256GB SSD 2GB RAM
$1,549.00
Intel
Core 2 Duo
2
256
Apple
13.3
Best Buy
Apple MacBook Pro 13.3″ Laptop w/ 4GB, 250GB & Free $125 Gift Card
$1,199.99
Intel
Core 2 Duo
4
250
Apple
13.3
Best Buy
Apple MacBook MC516LL/A & $100 Best Buy Gift Card Package
$999.99
Intel
Core 2 Duo
2
250
Apple
13.3
Best Buy
Apple MacBook® MC375LL/A Pro & $100 Best Buy Gift Card Package
$1,499.99
Intel
Core i5
4
250
Apple
13.3
Best Buy
Apple MacBook Pro MC371LL/A & $125 Best Buy Gift Card Package
$1,799.99
Intel
Core i5
4
320
Apple
15.4
Best Buy
Apple MacBook® Pro MC372LL/A & $125 Best Buy Gift Card Package
$1,999.99
Intel
Core i5
4
500
Apple
15.4
Best Buy
Apple MacBook® Pro MC373LL/A & $150 Best Buy Gift Card Package
$2,199.99
Intel
Core i5
4
500
Apple
15.4
Best Buy
Apple MacBook Pro MC024LL/A & $150 Best Buy Gift Card Package 17″ version
$2,299.99
Intel
Core i5
4
500
Apple
17
Buy.com
Apple MacBook Air MC506LL-A 11.6 in. LED Notebook, Core 2 Duo 1.40 GHz
$1,110.00
Intel
Core 2 Duo
2
128
Apple
11.6
Buy.com
Apple MacBook Pro 13 in. 2.4GHz Processor – MC374LL-A
$1,103.01
Intel
Core 2 Duo
4
250
Apple
13.3
MacMall
Apple MacBook Air 11.6″ 128GB
$1,168.98
Intel
Core 2 Duo
2
128
Apple
11.6
MacMall
Apple MacBook Air 11.6″ 64GB
$979.00
Intel
Core 2 Duo
2
64
Apple
11.6
MacMall
Apple MacBook Air 13.3″ 128GB
$1,259.00
Intel
Core 2 Duo
2
128
Apple
13.3
MacMall
Apple MacBook Air 13.3″ 256GB
$1,549.00
Intel
Core 2 Duo
2
256
Apple
13.3
MacMall
Apple MacBook Pro 13″ Core 2 Duo 2.4GHz 4GB/250
$1,148.99
Intel
Core 2 Duo
4
250
Apple
13.3
MacMall
Apple MacBook Pro 13″ Core 2 Duo 2.66GHz 4GB/320
$1,439.99
Intel
Core 2 Duo
4
320
Apple
13.3
MacMall
Apple MacBook Pro 15″ Core i5 2.4GHz 4GB/320
$1,710.98
Intel
Core i5
4
320
Apple
15.4
MacMall
Apple MacBook Pro 15″ Core i5 2.53GHz 4GB/500
$1,869.99
Intel
Core i5
4
500
Apple
15.4
MacMall
Apple MacBook Pro 15″ Core i7 2.66GHZ 4GB/500
$2,039.99
Intel
Core i7
4
500
Apple
15.4
MacMall
Apple MacBook Pro 17″ Core i5 2.53GHz 4GB/500
$2,097.44
Intel
Core i5
4
500
Apple
17.3
Apple Black Friday News, Deals and Guides: