Black Friday is in full swing and we want to hear about your experience- good, bad and ugly. One lucky reader will win a brand new 32GB iPod Touch. Read on for details!
The new Appel iPod Touch is one of the most wished for item this holiday season. Many call the iPod Touch the 'iPhone without the phone,' which is largely an accurate statement. The iPod Touch comes loaded with iOS4.2, the same software that runs the iPhone 4. The iPod Touch can run virtually all of the same apps as the iPhone and now features Facetime, allowing for free video calling to others with iOS4 devices or Macs with Facetime Beta installed.
If you've read this far, you probably know what the iPod Touch is and you probably want one for yourself or a loved one. The 8GB iPod Touch starts at $229, but is on sale for a few bucks less on Black Friday.  But we want you to be able to stretch out a bit and record and download a bunch of HD video. That's why we're offering up a 32GB iPod Touch, which retails for $299.
Here's how to win the 32GB iPod Touch Black Friday Giveaway:
To be honest, we'd rather keep the iPod Touch for ourselves. But since we're pretty lucky and have a ton of gadgets at our disposal, we figured we might as well get in the holiday spirit and give it to one of you.
All you have to do to win this deal is leave a comment and/or tell your friends about the giveaway on Twitter and Facebook.
Each legit entry will be assigned a number and we'll choose one via Random.org.
Each participant has three chances to enter and will receive one entry number for each section they complete below:
1) Simply leave a comment in the comments section below and tell us about your Black Friday shopping experience.
-Did you buy any gadgets on Black Friday? Which ones and from where?
-Few people have enough cash these days to buy all the gadgets they want. What are the top three items Black Friday deals you wish you could've taken advantage of? Be specific and include a link to the Black Friday deal description on Notebooks.com or the retailer's site. If you need ideas, visit our Black Friday page or hover over the green Black Friday tab at the top-left of this page.
-Did you buy online or go shopping at a retail store? Which store(s) or site(s)?
2) Tell your friends about this giveaway on Twitter. Simply click on the Twiitter logo on the upper-left hand side of this page, visit Twitter.com or use your favorite twitter app. Send out the following message and we'll see it automatically:
"I just entered to win an iPod Touch from @notebookscom at https://notebooks.com/winipodbf to celebrate Black Friday #nbbfipod"
We'd love to have you follow us at @notebookscom on Twitter.
3) For a third entry, Like Notebooks.com on Facebook. If you already follow Notebooks.com you'll automatically be entered to win the iPod touch.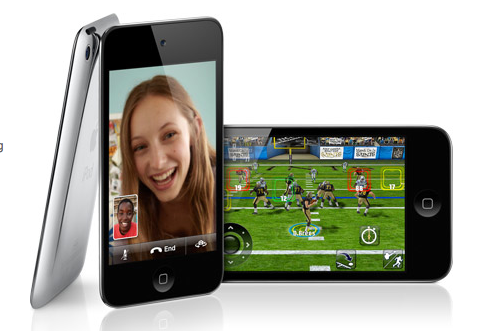 We'll pick a winner on Friday, Dec. 3 and notify the winner by email and/or via the method of entry, so keep an eye on your DM's, Facebook inbox and the below comments section. You must be 18 or older to enter and we will not accept entries from where it's prohibited by law. This giveaway is only open to U.S. residents.
Update: Thank you for entering. The winner has been notified via email.
Advertisement