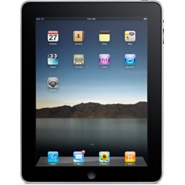 The next gen iPad is getting closer every day and a new rumor is out that points to a design change for the iPad 2. In addition to the likely hood of at least one camera on the next iPad, MacOtakara cites an "anonymous Chinese source," as saying that the second iPad would feature a wide-range speaker, thinner bezel and a flat back that is similar to the new iPod Touch.
If the Japanese gadget blog is correct the next iPad's bezel, the area around the screen, would be 3mm smaller and the back of the iPad would become flat much like the current iPod Touch models.
Additionally, the speaker would be getting an upgrade to a ""large wide-ranged speaker unit covered with metal mesh." If this is true, p-perhaps we'll find a louder iPad when it arrives in early 2011.
Here's a look at one of the iPad 2 cases that supports the wide-range speaker rumor:
While the iPad 2, or next gen iPad, hasn't officially been announced sources say that it is already under production and there is a possibility that we will see it before April, which will mark a year since the iPad was first unveiled.
Via AppleInsider
Advertisement