With Major League Baseball spring training in full swing, fans are looking forward to another season which should start in just a few weeks. Hope springs eternal at this time of year even if you root for a rotten team like mine–the Milwaukee Brewers. This week's iPad App of the Week is MLB at Bat 11. This app will help you follow your favorite team wherever you have your iPad.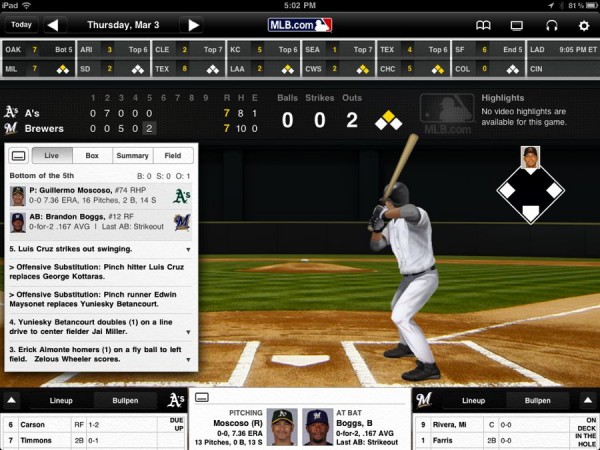 For baseball fans stats are a big part of the game. With MLB at Bat you get stats galore. Above you see the Game Day view. But there's more than just stats to be viewed during a game. It comes with standings, news about all the teams, and the ability to customize it so that it features your favorite team.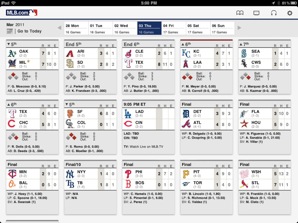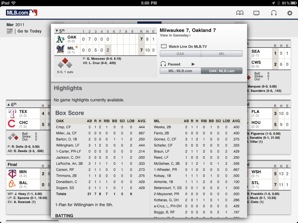 One of the best parts about app is the ability to both listen to or watch your favorite team's broadcast. Using the AirPlay feature built into the iPad the user can also send the video of the game to an Apple TV. While watching a game the user can view the lineup of the team at bat or a graphic of the players out in the field on defense (see below).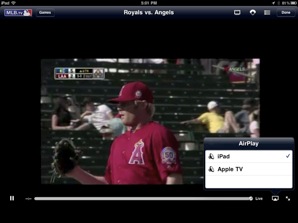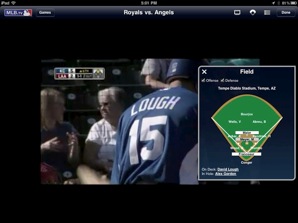 Listening to the radio broadcast is included in the $14.99 fee for the app. Or you can pay a subscription fee to MLB TV and get the video broadcast of all the games so long as there isn't a blackout in your area. The subscription fee for one year is $99.99. If you want DVR capability it goes up to $119.99. Or you can pay monthly at either $19.99 or $24.99 respectively.
Below is our video review of the app:
Users will love the ability to keep track of their team with all the news content. There are plenty of articles covering your favorite team as well as the rest of the major-league teams. And in the articles there are also short news videos like the one below.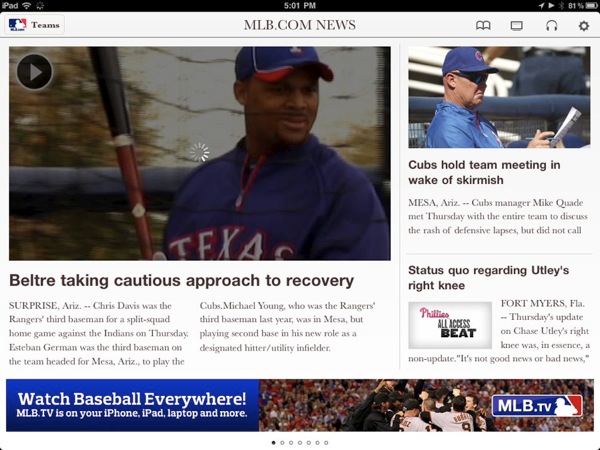 The video quality of the games is what you would expect from live streaming over the Internet. It looks like highly compressed video and sometimes stalls during network access. The audio quality is as good as AM radio. But that's okay because the point of this app is not high-quality video and audio but being able to track your favorite team when you can't watch the games on your TV. For those of us who live outside the market of our local team, that's the majority of the time.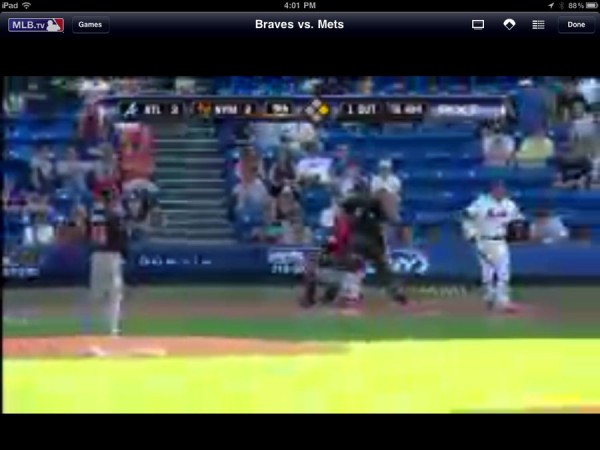 Pros:
Being able to watch your team's games
Lots of stats
Loads of news coverage
Video news
Great game day screen
Cons:
Video quality is highly compressed
Occasional stalls in the video
Advertisement