If you haven't already seen Apple's latest announcements concerning the new lineup of iPod's and the refresh of the Apple TV, definitely check it out using the links provided.
Both the iPod Touch and the Apple TV are now an even better value to college students. Let's talk about why:

The iPod Touch has become increasingly popular with students thanks to its great battery life and other features borrowed from the iPhone. Apple has offered back-to-school specials which afford students a free iPod Touch with the purchase of a new Macbook. With the proliferation of WiFi in schools, it's not uncommon to see students using their iPod Touch for music all around campus and quickly checking emails and Facebook between classes.
Apple's latest iPod Touch adds some features that will certainly be appreciated by users, such as increased performance with the Apple A4 chip, and a great new high resolution display. However, I'm willing to bet that the most useful new feature for most students will be the front and rear cameras.
Better display:
Apple has bumped the iPod Touch's resolution up from a measly 320×480 to four times that at a whopping 960×640. The new screens (same resolution and technology as the iPhone 4) look incredibly crisp and make it much easier to see detail in games and other apps. This new display also makes reading on the iPod Touch a new experience.
Cameras:
Apple has added a 0.9MP rear-facing camera to the iPod Touch which is capable of recording 720p HD video great for capturing campus events or for remembering what happens during wild parties. Some film students will appreciate the HD capability as an upgrade over outdated campus provided video cameras! The rear camera also takes photos which will see plenty of use (especially with the popularity of Facebook among college-aged students). Sadly, the rear camera only snaps photos at a paltry 960×720 resolution (much smaller than the iPhone 4's photos), but the photos will likely be better quality than most cell phone cameras out there and definitely better than that crappy point-and-shoot that you never have with you when you need it!
FaceTime:
And let's not forget the front-facing camera for it's FaceTime use. That's right, the iPod Touch is Face Time enabled which will absolutely change the way that students conduct their inter-campus communication and even the way that they stay in touch with extra-campus friends and family.
Faster processor:
The new iPod Touch now uses Apple's A4 chip, the same powerful processor that's found in the iPad and the iPhone 4. This puts the iPod Touch on par with Apple's fastest mobile devices and makes it compatible with the very latest demanding games.
No contract (like iPhone):
The newest iPod Touch is the closet thing you can get to owning an iPhone without actually paying for a massive monthly contract. You've got access to most of the great features like Facetime, the Retina Display, the App Store, and HD video recording. What is the iPod Touch missing out on that the iPhone 4 has? GPS, compass and high-resolution rear camera, however, most of the awesome stuff is still there.
An easy to use, personal web browsing, video conferencing, social networking device right in your pocket? The new iPod Touch is an absolute must-have college companion.
And probably best of all, the iPod Touch remains reasonably priced at $229, $299, or $399 for 8/32/64GB storage respectively. The iPod Touch is going to be at the top of many Christmas wish lists this year.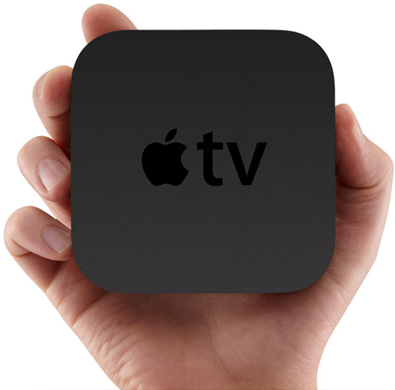 It's very common to find students with 22" 32" HDTVs in their dorm rooms and apartments. And now, thanks to the Apple TV, students have a very affordable and simple way to get great HD content to their HDTVs.
The new Apple TV is small enough to fit in the hand, and setup couldn't be easier. It uses an HDMI port which means just one single plug will hook up your audio and HD video. And trust me… for my friends who can't even figure out the old color coded plugs, this single cable setup will be much appreciated.
On top of it being simple to set up, the Apple TV is simple to use. New movies can be rented in HD for $4.99 and HD TV shows are just $0.99 per episode! Everything is streamed right to the Apple TV, so you'll need a sufficient internet connection. Renting an HD movie for $4.99 from the seat of your couch and being able to start the movie in mere seconds absolutely beats the pants off of finding your way to the nearest movie rental store with no car and paying $8 for a non-HD movie rental!
The folks back home might have a Netflix subscription, but you can't get those movies delivered to your door when you are away at school. Fortunately, you can use the Apple TV to stream movies and TV shows from Netflix's Play Instantly" collection which will even stream in HD! And if you are an advanced user, you can stream photos, videos, and music from your own computer.
And let's not forget YouTube. YouTube might not be very old, but for college students, there is a definite group of YouTube classics" that result in seemingly endless laughter. Apple TV will bring classics such as N64 kid" to the big screen in front of the comfy couch, which is a great alternative to having everyone crowd around the tiny computer screen without chairs! I'm certain students will waste away hours sharing their favorite videos (when they should probably be studying).
Can you name two other gadgets that will get you: HD video recording, FaceTime video chatting, a 960×480 screen, access to 250,000 apps in the App Store, in your pocket, and Instant on-demand HD entertainment right to your HDTV starting at just $328? I doubt it!
Advertisement