Apple announced a new iPad Pro, a new pair of iPhones with 3D Touch and an updated Apple TV during their September 9 event.
The long-expected iPad Pro will bring something that Steve Jobs famously said the iPad and iPhone didn't need: a stylus they call Pencil. It also adds a larger screen, a keyboard and iOS 9 which allows users to open two apps at once.
With the watch we get new colors, bands and native apps running directly on the watch. Other updates include Apple TV with apps and updated hardware as well as new iPhones.
Apple Watch OS 2.0 New Colors and New Bands
Apple Watch came out earlier this year and then Apple quickly announced an updated version of the operating system, which they dubbed WatchOS. The new WatchOS 2.0 will land on September 16 with some interesting new features.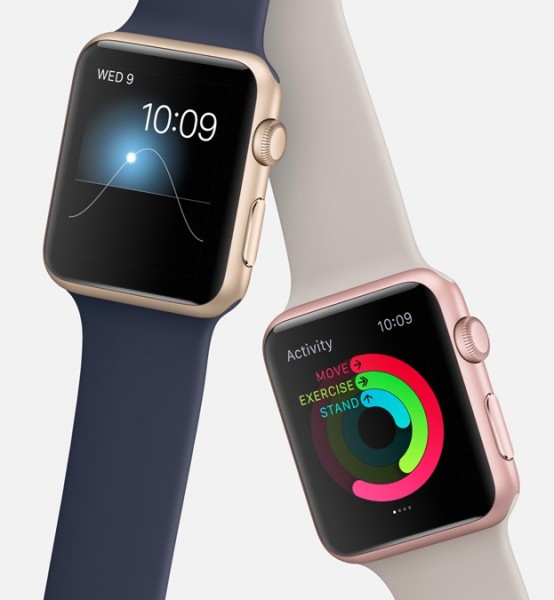 Finally, Apple will let Apple Watch owners add new third-party watch faces. Until now users could only use watch faces designed by Apple. The faces can include what Apple calls "complications" a strange term that describes live or interactive parts of the watch screen. For example, it can include weather information, news tickers, social networking feeds and more. The digital crown, a rotating button on the side, will scroll through things, like your stock ticker.
Native apps will now run directly on the watch. Until now 3rd party apps had to "phone home" to the app on the phone to run on the watch. Partners like Facebook Messenger and iTranslate will launch, but expect others to jump on board too.
New colors come to the Apple Watch along with more bands. Check them out at Apple.com.
iPad Pro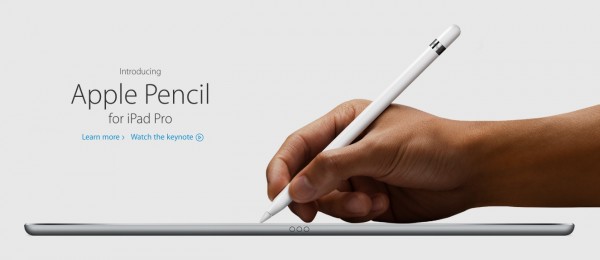 We finally learned about one of the two most anticipated announcements. Tim Cook and company unveiled the new iPad Pro. The other is Apple TV.
Think of a Microsoft Surface Pro 3 with an iPad instead of a Windows PC. That is the idea behind the iPad Pro. Users can do this now with an iPad Air 2 and some accessories, but don't get the larger display and integrated Pencil or Smart Keyboard.
The iPad Pro sports a 12.9-inch display with a 2732×2048 resolution. It's powered by an A9X chip that Apple claims runs 1.8 times faster than the current iPad Air 2. We still get 10 hours of battery life, which normally holds up to real-world testing in past iPad generations.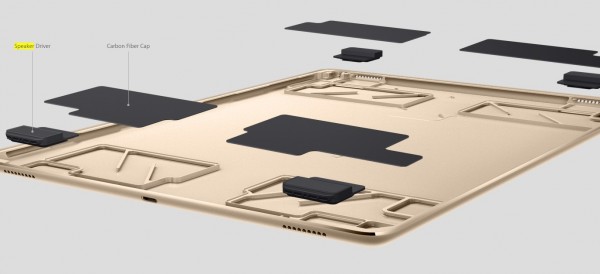 Apple potentially fixed one of iPad's biggest weaknesses, the sound. Instead of the terrible speakers we get on current iPads, they will include four speakers producing stereo sound.
The iPad Pro weighs a hefty 1.57lbs, which they compared to the first gen iPad at 1.54lbs. Compare that to current iPad Air 2 which weighs .98lbs for the LTE model. It's only .8mm thicker than the Air 2 at 6.9mm.
This slideshow requires JavaScript.
The new iPad Pro Smart Keyboard cover fastens with a magnetic connector on the side of the iPad. The keys include the same new key technology that Apple introduced on the new MacBook earlier this year. Notice in the slide show above the three modes with the Smart Cover closed, in typing mode and at a perfect viewing angle for watching videos.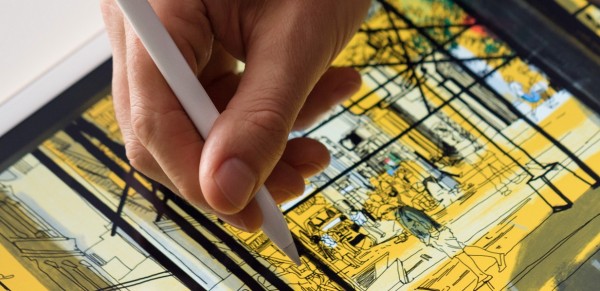 Like the Surface Pro 3, the iPad Pro will now come with an optional stylus called the Apple Pencil. It's a thin-tipped pressure sensitive stylus that can interact with the pixels on the screen down to a single pixel. When drawing or writing with the Pencil the screen will reject skin touch, resulting in palm rejection that will keep users from accidentally marking up the screen while doing precision work with Pencil.
iOS 9 will bring with it a new side-by-side mode where the user can put two apps onscreen at the same time. This turns the iPad Pro into a more useful productivity tool.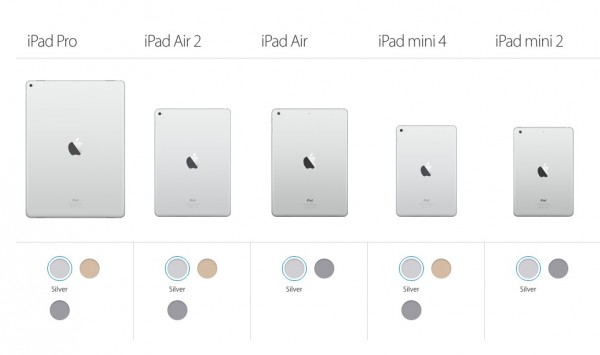 The iPad Pro will cost $799 with 32GB of storage. Jump to 64GB for $949 total. Double the storage again and add LTE and it costs $1,079.
The pen costs $99 and the Smart Keyboard costs $169. It becomes available in November, just in time for the Christmas buying season.
A new iPad mini 4 will cost $399 with the same hardware specs of the iPad Air 2 in a smaller 7.9-inch screen. The iPad mini 2 will still be available for $279. There's no change in the iPad Air or iPad Air 2 specs or cost. Compare them all at Apple's online store.
Apple TV with Apps and Games
Entertainment lovers will enjoy the new Apple TV that adds Siri into the remote, an app store for games and other apps, and updated hardware all for $149 for 32GB of storage and $199 for 64GB.
It comes with 10/100 Ethernet and HDMI output. A USB-C port will likely get used only for updates and development of apps. Most people will use Wi-Fi to connect to a network, but it's a shame there is no Gigabit Ethernet. It doesn't offer 4K video, so the lack of Gigabit Ethernet isn't as bad as it would be with 4K video playback included.

The remote comes with a glass touch surface on the top half. This touch surface will behave much like the Apple Remote app on an iPhone.
The remote includes a mic so users can interact using Siri. The Siri integration lets the Apple TV watcher ask the device to play search for Disney movies or animated movies. Then when it shows a group of them hit the mic button and ask it to show "just the new ones" and it shows only the latest releases.
The Apple TV lets us install games and apps. They demoed a few apps that look cool. One of them uses the remote much like the Wii with motion sensors.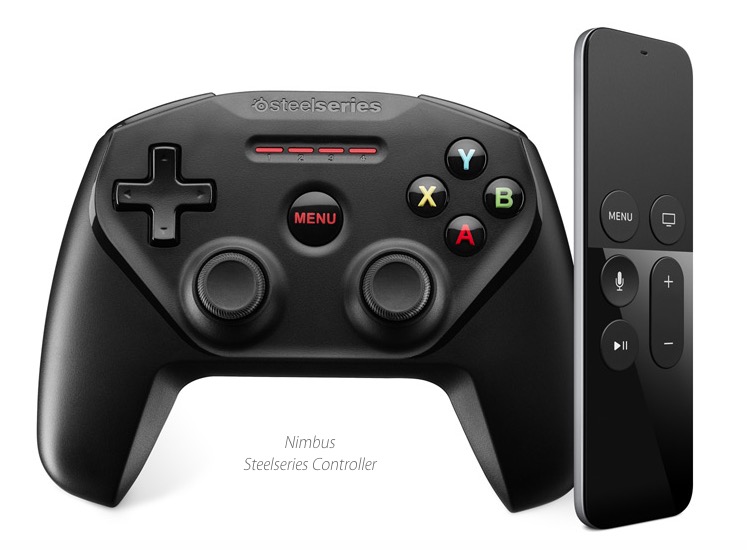 On Apple's Apple TV site they show a Steel Series Nimbus remote that looks like a typical gaming pad. This makes it a lot like the Amazon Fire TV or the NVIDIA Shield TV Android TV.
Apple didn't announce a cable replacement, as some hoped. Early rumors said they would but those disappeared as we got closer to the announcement.
iPhone 6s and iPhone 6s Plus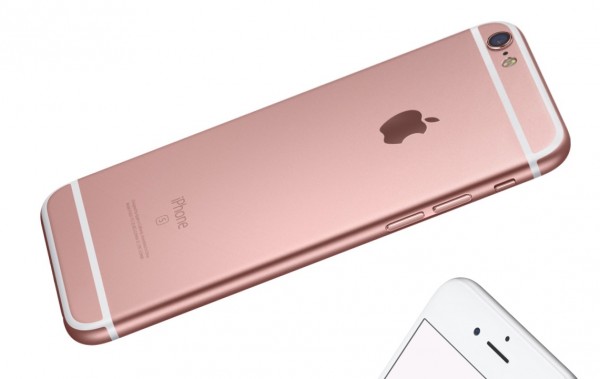 The new Apple iPhone 6s looks almost exactly like the current generation iPhone 6. The same holds true for the Plus models. The big changes come in the form of a new 3D Touch display and in a better set of cameras.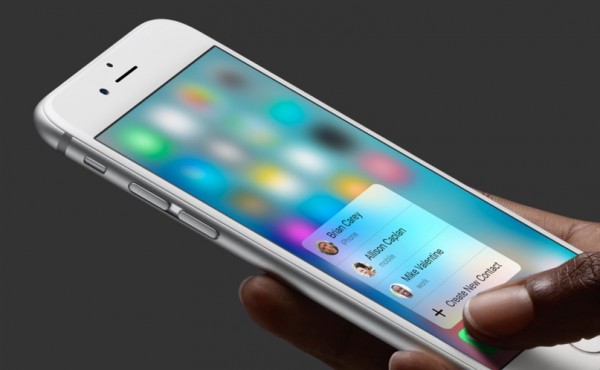 3D Touch lets a user press a little harder for more interaction. Built-in iOS 9 apps and third-party apps will be able to make use of this third way of interacting to create things like pop up menus on app icons. The demo showed how a user can do a 3D Touch on the Facebook icon to do things like go directly to the news feed or to post an update.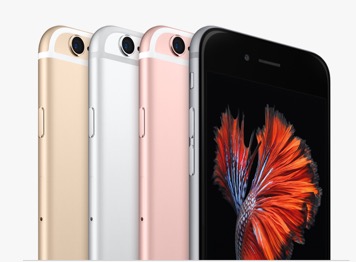 The new Rose Gold with White front joins the old Gold/White, Silver/White and Silver/Black colors. Other than that, there's no real difference on the outside of the phone. Inside we see a faster processor and better cameras.
The camera on the iPhone 6s and 6s Plus will produce 12MP shots and shoot in 4K video. They also introduced live photos, where the photo includes a few seconds of video before and after the shot. Press on the image to see the live photo video.
The most disruptive announcement was the new iPhone Upgrade Program. Carriers began doing monthly payment plans where the user pays a monthly installment instead of paying full price or a subsidized $200-$300 price. Now Apple will let you pay them directly for a new unlocked phone that you can take to any carrier you choose. For a monthly fee starting at $32/month paid to Apple users can get a new phone every year. This includes Apple Care, their extra warranty/insurance.
Advertisement