Apple just sent out a Black Friday 2010 notice to existing customers letting shoppers know that on Black Friday Apple retail stores and the online Apple store would be offering a, "special one-day Apple shopping event."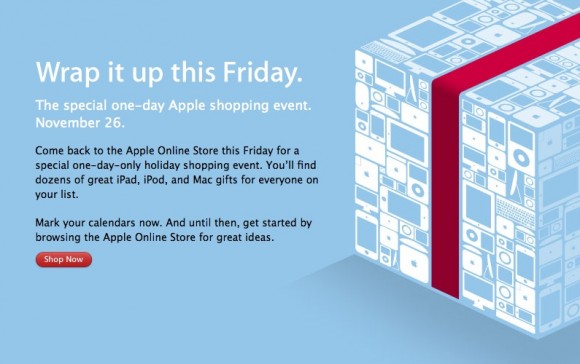 The Black Friday Apple sales will begin at 8 AM at retail locations and should be on all day online. Apple is typically reserved with discounts to the hardware products like the iPad, MacBook, MacBook Pro and MacBook Air systems.
In year's past, Apple has cut prices on Apple laptops a modest $100 on Black Friday, which is pretty low compared to typical discounts at resellers like Amazon, Best Buy and MacMall on Black Friday. We definitely won't see the $100 off an iPad deal at Apple that you may find at TJ Maxx or Marshalls.
If you want to order your new Apple product on Black Friday, be sure to hit up the online Apple Black Friday deals from these resellers for a lower price. As a bonus many of these online retailers don't charge tax at the time of purchase.
Check out the Apple Black Friday 2010 deals in out Ultimate list of Black Friday Laptops sortable list.
Advertisement