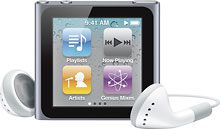 Radio shack is offering a free $15 gift card with the purchase of an 8GB iPod Nano on Black Friday. Radio Shack is not offering a discount on the iPod Nano, keeping with the MSRP of $149.99 on Black Friday.
The iPod Nano has a multi-touch display and a number of other improvements compared to last year's iPod Nano. It is extremely compact, making it easy to clip on a shirt or bag. While most people would be very happy to receive the iPod Nano as a gift, the iPod Touch is a significantly better value since it runs iOS4 and virtually all of the apps built for iPhone. The iPod Touch retails for $229, but you'll be able to get a great deal this Black Friday in the form of a $20 to $50 gift card.
The iPod Nano will be available at select Radio Shack locations with the free $15 gift card.
For more information, Please visit the Notebooks.com Black Friday page.
Here is a video of the latest iPod Nano.
Advertisement