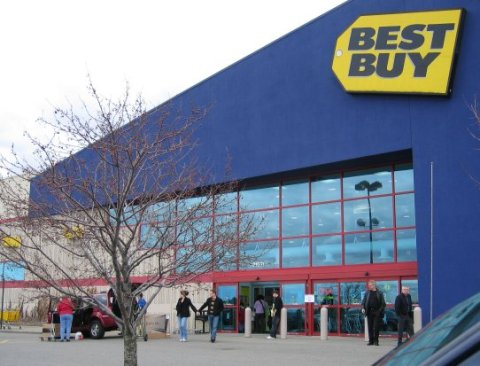 Best Buy has some great deals for Black Friday, but they'll be impossible to get if you're not already in line. Best Buy's doors open at 5am local time, but people have been lining up all day long, and in some cases well before then. One family began camping out for Best Buy's Black Friday deals nine days ago.
All of Best Buy's doorbuster deals are limited to the quantities on hand. In many cases, Best Buy guarantees a minimum quantity of each Black Friday deal units at each store. Busier stores are often allocated more than the minimum quoted in the Best Buy Black Friday advertisements, but that's still not enough to satisfy more than the first several dozen customers in line. Many Best Buy stores, such as the main San Francisco Best Buy, already have several hundred shoppers lined up around the block. Unfortunately, that means several hundred people are out in the cold for both the night and the best deals.
Best Buy stores and their attached warehouses are stuffed to the brim with inventory, packing literally hundreds of some popular items into the store aisles. Those items will be relatively easy to buy with modest Black Friday discounts. There's genereally no need to camp out in a freezing Best Buy parking lot to get those deals however. In many cases, these deals are readily available on BestBuy.com, Amazon.com and other online retailers.
We've heard countless stories of Black Friday shoppers being frustrated at not getting the advertised deals. In some cases, even those towards the head of the lines miss out. Some shoppers have accused Best Buy stores of not actually having the minimum advertised quantities of the Black Friday doorbuster deals. In a few cases, Best Buy employees have violated store policies to hoard the deals for themselves, friends and relatives.
For a full list of Black Friday Best Buy deals visit this page. Or you can visit our Black Friday deals and guides page.
Advertisement