Costco is selling the HP Pavilion dv6623cl-b notebook for $799.99 the weekend after Thanksgiving. Costco members need to use the $100 coupon they received in the mail to get this Black Friday deal.
The HP Pavilion dv6623cl-b is not available online and is only available at Costco stores. One thing the dv6623cl-b laptop has that no other Black Friday special has is a two year warranty. Costco doubles the standard one-year warranty on all of the laptops it sells. This notebook is listed as Costco item number 228393.
The HP Pavilion dv6623cl-b is a 15.4-inch widescreen entertainment notebook that includes 1GB of memory, 160GB hard drive, Webcam and DVD burner with dual layer support. Its Intel Core 2 Duo processor runs at 1.5MHz and has 2MB of L2 cache. A Targus backpack, extra AC adapter and wireless mouse are included.
Bundled accessories are always nice, but many users won't get a lot of value out of the backpack and wireless mouse. Costco should have upped the memory to 2GB, which is necessary to truly enjoy multimedia on Windows Vista Home Premium. An extra AC adapter is nice, but I'd much rather prefer an extra battery.
The dv6623cl-b is more expensive than other 15.4-inch notebooks being sold this Black Friday, but it well equipped and doesn't skimp on much, except for the 1GB of memory. There are plenty of ports and plugs, including three USB 2.o ports, two headphone jacks, VGA out, S-video, LAN, modem and FireWire. The notebook can be expanded via the ExpressCard slot or the Expanstion port 3, which connects to the HP xb300 Expansion base or the HP QuickDock.
The dv6623cl-b is part of the HP Pavilion dv6600 series. If you don't have a Costco membership or would like to customize one with your own specs, go to HP's Notebooks Store.

.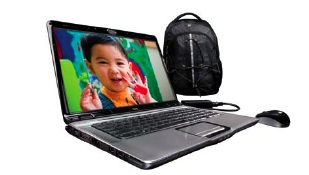 Advertisement