Lenovo is now selling the T61p, a workstation version of its popular T61 series notebook. The T61p, a 15.4-inch widescreen ThinkPad, is Lenovo's most powerful notebook and to date, yet runs cooler, quieter and more energy efficient than previous models. The new ThinkPad series features the latest Centrino Pro processors, NVIDIA Quadro FX graphics and an optional Ultra-Wideband (UWB) wireless card to connect to wireless printers, cameras and other devices.
Like all ThinkPads, the T61p is built for durability and security. A top-cover roll cage to protects the LCD, while optional port disablement, 32-byte password protection, an integrated fingerprint reader and full disk encryption protect your data.
"Technology is driving racing today in a new way. AT&T Williams relies on Lenovo ThinkPad mobile workstations everyday to power our team, whether it's in the garage or on the track, helping in everything from systems checks before starting the car to monitoring fuel inputs," said Alex Burns, chief operating officer, AT&T Williams. "For us, a powerful and portable machine with fast wireless, incredible processing speed and high-end graphics makes an important contribution to beating the competition. Lenovo's mobile workstations help us do just that."
Lenovo seems to be taking energy efficiency seriously. The T61p ThinkPad meets the Environmental Protection Agencyâ€â"¢s Energy Star 4.0 standard.
"What is notable about this release is it marks a fundamental shift in the way some manufacturers are touting products," said Samir Bhavnani," research director of Current Analysis West. "In the past Energy Star was just a line on the spec sheet. Today it's the headline in the press release. Increasingly we see sales influenced by the perception of how environmentally friendly a company is."
The T61p can be configured to include up to 4GB of memory, 160GB hard drive, Bluetooth and DVD burner. Those who need the speedier systems can opt for 1GB of Intel Turbo Memory and a 7200RPM drive with up to 100GB of capacity. The T61p can be configured with Windows XP Pro, or any flavor of Windows Vista.
The T61p starts at $1,833, but Lenovo is running promotions that reduce the price tag to $1,508.
Find prices and configurations of the ThinkPad T61p at Lenovo.com from $1,508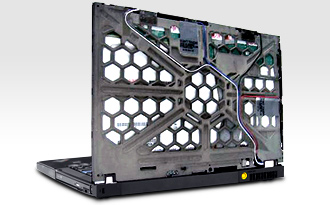 Advertisement