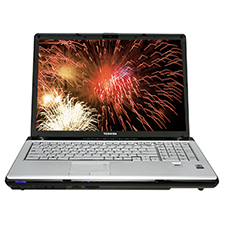 Toshiba updated the Satellite P205 series of 17-inch desktop replacement notebooks, including two new models that feature HD DVD drives and up to 300GB of storage. The Toshiba Satellite offer some nice entertainment features for movie buffs.
Toshiba's really pushing HD DVD drives and is offering five free high-def movies if you purchase a P205. If you're going to purchase a P205 with HD DVD, I'd strongly recommend getting one with an HDMI output, such as the P205-S748. There's no point in investing in a high-def DVD player and not being able to output it to your flat panel TV.
Both models have a 17-inch widescreen display (1440×900 pixels), Dolby Sound Room, integrated webcam and fingerprint reader.
The P205-S7482 is available now for $1,449.99 at ToshibaDirect.com and at retailers. It includes an Intel Core 2 Duo processor (T5450 1.6GHz, 2MB L2 cache) 2GB of memory and ATI Mobility Radeon HD 2600 GPU with 256MB of video memory. The P205-S7482 has 300GB of hard drive capacity and the all-important HDMI port.
The P205-S7476 is priced at $1,299.99 and while it will playback high-def movies, you lose the dedicated graphics card and HDMI port. The processor is slightly slower and it has a 200GB hard drive, 100GB less than the P205-S7482. If you can afford it, spend the extra $200 on the P205-S7482 or wait for a coupon.
Satellite

Unique Specifications ($1,449.991)
* Genuine Windows Vista® Home Premium (32-bit version)
* Intel® Coreââہ¾Ãƒâ€šÃ'¢ 2 Duo Processor T54502
o 1.66 GHz, 2MB L2, 667MHz FSB3
* 2048MB PC2-5300 DDR2 SDRAM memory4
o Maximum capacity 4094MB
* 300GB (4200 RPM) Serial-ATA hard disc drive5
* HD DVD-ROM/DVD SuperMulti (+/-R double layer) drive supporting 12 formats
* 17-inch diagonal widescreen TruBrite® display
o 1440×900 native resolution (WXGA+)
* ATI Mobilityââہ¾Ãƒâ€šÃ'¢ Radeon HD 2600 with 256MB DDR discrete graphics memory plus up to 255MB dynamically allocated shared graphics6 memory using ATI HyperMemoryââہ¾Ãƒâ€šÃ'¢ technology
* Built-in Harman Kardon stereo speakers with sub-woofer
* Dolby Sound Room
* Intel® Wireless WiFi Link 4965 AGN (802.11a/g/n)7
* Embedded Webcam and microphone
* Fingerprint reader
* One-year standard limited warranty8
Satellite P205-S7476 Unique Specifications ($1,249.99)
* Genuine Windows Vista Home Premium (32-bit version)
* Intel Core 2 Duo Processor T5250 (1.5GHz, 2MB L2, 677MHz FSB)
* 2048MB PC2-5300 DDR2 SDRAM memory, Maximum capacity 4096MB
* 200GB (4200 RPM) Serial-ATA hard disc drive5
* HD DVD-ROM/DVD SuperMulti (+/-R double layer) drive, supporting 12 formats
* 17-inch diagonal widescreen TruBrite display 1440×900 native resolution (WXGA+)
* Mobile Intel® Graphics Media Accelerator X3100 with 64MB-251MB dynamically allocated shared graphics6 memory
* 2 built-in Harman Kardon stereo speakers with sub-woofer
* Dolby Sound Room
* Intel® Wireless WiFi® Link 4965AGN (802.11a/g/n)
* Embedded Webcam and microphone
* Fingerprint reader
* One-year standard limited warranty
Advertisement