Toshiba announced the Dynabook TX/98MBL which, according to Toshiba, is "the industry's first PC supporting the Blu-ray 3D format." Blu-ray is a popular video and data disc format that can hold up to 50GB of data per disc. Blu-ray drives are becoming increasingly common in notebook PCs, but this is the first time we've heard of one supporting both Blu-ray 3D and NVIDIA"s 3D Vision.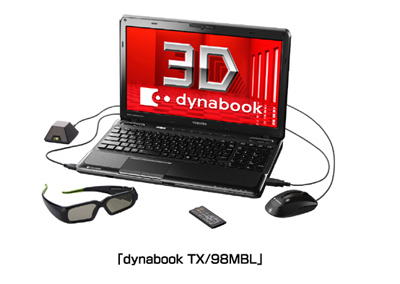 The Dynabook TX/98MBLJ features:
15.6-inch LED backlit LCD display with 120Hz
Intel Core i7-740QM processor operating at 1.73GHz (2.93GHz using turbo boost)
640 GB Hard Drive
4GB Memory
Blu-ray disk drive
NVIDIA GeForce GTS 350M
Harmon/Kardon stereo speakers with Dolby Advanced Audio
Microsoft Office Home and Business 2010 Pre-installed
NVIDIA 3D Vision Kit (pair of active shutter glasses, storage pouch, adjustable nose pieces, USB controller / Infrared emitter, cleaning cloth, and USB cable)
Remote Control
This is a powerful entertainment laptop with enough horsepower to play back 3D Blu-ray titles and 3D PC games. It features a powerful Intel Core i7 processor and NVIDIA GeForce 350M graphics processor with 1GB of video RAM.
The 3D glasses use the same active shutter technology. This means that the lenses lighten and darken at the same refresh rate  (120HZ) as the display, which is fast enough that you won't notice the cycle from light to dark. The result is a crisp, high quality image that gives the illusion of depth. Not only will this technology enable you to view the stereoscopic 3D Blu-ray movies, but also play 3D games.
Ready to pick one up today? Well you're going to have to drool over this one for a while. This notebook is projected to launch in Japan in July. Dynabook is a Toshiba brand that's not sold in the U.S., though the company may adapt the Dynabook TX/98MBLJ to the U.S. market in the future.
via Toshiba Japan Press Release
Advertisement