After what seems like the longest wait for a netbook, the ASUS EEE PC 1215N — a little powerhouse of a netbook, has been released. The Eee PC 1215N is a 12″ netbook powered by a dual core Atom D525 processor complete with NVIDIA ION 2 graphics and Optimus technology for intelligent switching; it even packs in USB 3.0. Even with these specs the Eee PC 1215N is able to stay solidly in Netbook territory at 3.3 pounds and come in for sale below $500.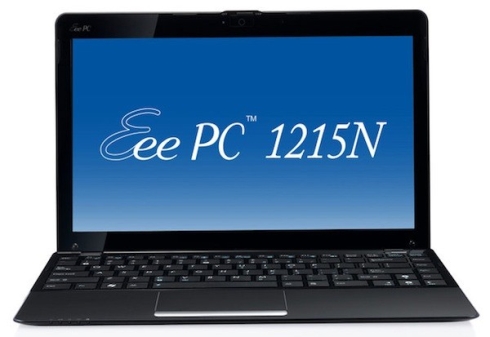 Thanks to NetbookNews we have had early looks at the Eee PC 1215N, but now that it is finally available, and likely to be formally announced later today, the Eee PC 1215 reviews are rolling in.
ASUS Eee PC 1215N Review Roundup
While the Eee PC 1215N isn't perfect, and is still a netbook, these first reviews consistently rate it in the 3.5-4 star or 7 out of 10 range and elicited responses such as fastest and most impressive netbook. The powerful device earned good marks for its ability to play many modern games at low to medium detail, playback 1080P content and general performance. With battery life in the 5 hour range some reviewers were satisfied, while others were left wanting; ultimately you'll have to decide if 5 hours is long enough. Reviewers dinged the netbook for plain looks, a bouncy keyboard and stiff mouse buttons
Credit: LaptopMag
Laptop Mag – ASUS Eee PC 1215N Review: "There are now a plethora of options for those who want to buy a sub-$500 notebook they can take anywhere, and the ASUS Eee PC 1215N provides the best bang for the buck. While AMD-powered 11.6-inch ultraportables offer comparable processing power, they don't last as long on a charge as this machine and don't provide as much graphics muscle. That's the difference Nvidia's Optimus technology makes. Yes, you could get a similarly sized Intel ULV laptop that offers more pep and even longer battery life (like the Acer Aspire Timeline 1830T), but you'd have to cough up at least $200 more. Call it a supercharged netbook or a notebook. The bottom line is that for those on a budget, the Eee PC 1215N can't be beat." – Michael A. Prospero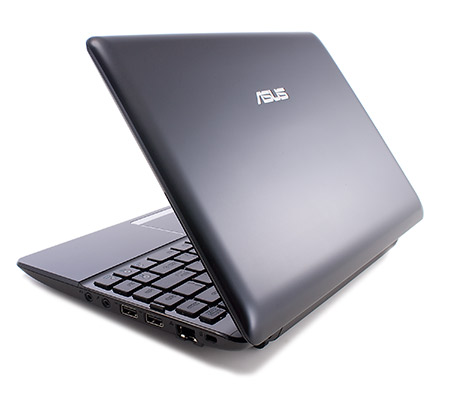 Credit: PC World
PC world – ASUS EeePC 1215N Review: "I find it odd that Asus didn't do more with the 1215N's design, considering all the envelope pushing it has done with other EeePC models. The gloss of its predecessor is gone, replaced by a matte black top that will still need a Windex wipe from time to time. It's neither as forward-thinking as the metals found in the HP 5102 nor as trendy as the textures found in the Toshiba NB305-N410 and Lenovo IdeaPad S10-3." – Cisco Cheng
Credit: NotebookReview
Notebookreview.com – ASUS Eee PC 1215N Review: "In terms of real world gaming this means you can play World of Warcraft on low detail settings at 1366×768 resolution and gameplay has an average framerate of about 45 frames per second. Similarly, you can play Left 4 Dead on low settings at 1366×768 and get average framerates in the low 20s. The bottom line is the latest version of Nvidia Ion works fine for games with low requirements (World of Warcraft, Portal, or Sims 3) but really starts to slow down with slightly more taxing first person shooters like Left 4 Dead or Resident Evil 5. Although this level of performance isn't as jaw dropping as a portable gaming system like the Alienware M11x, the Eee PC 1215N certainly is the most impressive standard netbook we've reviewed to date." – Jerry Jackson
Credit: Engadget
Engadget – ASUS Eee PC 1215N Review:  "We realize the 1215N's chiclet keyboard is the same as the one on the 1201N and the most recent Eee PCs, but the matte keys seem "clickier" than those on the other laptops. Additionally there's just a significant amount of flex to the whole panel. While typing this review we noticed the entire panel caving in at times — it's not pretty and we've seen much better quality ASUS keyboards, like that on the U33Jc. There's no questioning that we prefer the chiclet keyboard on the M101z.
We have much kinder words about the 3.5 x 2.2-inch touchpad. Besides being quite wide, the plastic is soft to the touch no, really, your finger will thank you for the nice feeling surface. As usual, the multitouch was a bit sensitive; two finger scrolling was fairly accurate, but we disabled the pinch-to-zoom setting since we kept mistakenly zooming when we just wanted to get to the bottom of a web page." – Joanna Stern
NetbookLive – Asus 1215N review powerful EEE PC in a compact sleek body: "I've said before this is a mini-multimedia device, because of the Nvidia graphics it brings. In practice this means it can run all kind of content, including 1080p self-stored or Flash clips, plus all kind of Flash games." – Mike
NVIDIA Optimus Demo from NetbookLive
GadgetMix – ASUS Eee PC 1215N Review: "With all those amazing specs and performance, the Asus Eee PC 1215N is more like a sub-notebook than a netbook. It has Optimus Technology that translates in more efficient battery usage based on the CPU load and finally, it lets you play some of the most amazing games out there, at low/medium detail. The use of Atom D525 and next-generation ION graphics is a winner combo as it scored nearly 1000 points more in 3DMark06 benchmark compared to Asus 1201n that came with Atom 330 and first-generation ION graphics" – Kamal DS
Cnet – Asus Eee PC 1215N (black) review: "The display offers the standard 1,366×768-pixel native resolution found on nearly every laptop screen from 11 to 15 inches. That gives you plenty of room on screen for documents and Web pages, and it's also ideal for 720p HD video. The display is glossy, but not overly so, minimizing distracting glare from nearby lights. The internal speakers were acceptable for a small laptop, and reasonably loud, but serious movie or music playback will still require headphones or external speakers." – Dan Ackerman
ASUS Eee PC 1215N Detailed Specs:
Intel Atom D525 dual core processor
12.1-inch LED backlit display (1366×768 resolution)
2GB DDR3 RAM
320GB HDD
NVIDIA ION 2 with Optimus technology
802.11b/g/n WiFi
Bluetooth 3.0
1.3-megapixel webcam
2 USB 3.0 ports
USB 2.0 Sleep'n'Charge port (also found on Toshiba T200 series)
HDMI port
VGA out
SD/MMC card reader
6-cell battery
Windows 7 Home Premium
Advertisement