Toshiba has just announced the Qosmio T851 notebook which delivers glasses free 3D and is claiming to be the first notebook to deliver both 3D and 2D content at the same time.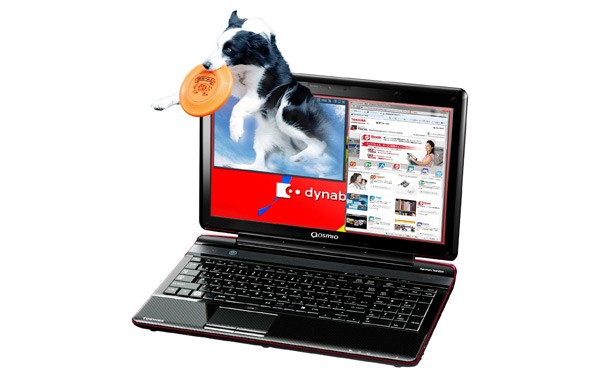 The Qosmio T851 is able to deliver simultaneous 2D and 3D images thanks to  the glasses free 3D technology inside including face tracking via the Qosmio's webcam. The 15.6″  Super View LED display is able to keep the 2D images separate from the 3D images so that you can achieve the side by side 3D and 2D images.
As you can see in the press shot above, Toshiba thinks you will want to use the Qosmio T851 to watch a movie clip in 3D while browsing a website in 2D. Based on the issues some users have with 3D in a setting like the Nintendo 3DS, we have to wonder if the side by side dimensional changes will cause any discomfort.
It will also be interesting to see how users will be able to focus in on their web page while a 3D movie is jumping out at them just an inch away. For the most part, 3D is an experience, not a random thing that happens in the window you have aligned to the left.
Questions about usability aside, the glasses free 3D with face tracking technology is really cool. We saw a demo of the face tracking and glasses free 3D at CES 2011 which worked well and delivered a very usable 3D experience for watching a movie. Since then, Toshiba has been able to shrink the technology down to size to fit into a normal sized notebook. We can't wait to see how this handles in person.
As far as specs go, there is a 2nd Generation Intel Core i5-2410M processor, NVIDIA GeForce GT 540M GPU, 750GB hard drive and a Blu-Ray drive.
Toshiba has not announced a price or a U.S. release date for the glasses free 3D Qosmio T851, but we anticipate a lofty price when it comes to market. The Toshiba Qosmio T851 will launch firs tin Japan this summer for an unannounced price.
Advertisement