Dell announced an update to the XPS 17 back at CES 2011, and now users can finally get their three dimensional hands on the new XPS 17 3D which is powered by the latest Sandy Bridge processors. Also included in the update is the slightly more portable Dell XPS 15 which brings Intel's latest processors to the mix and both notebooks get new GPU options.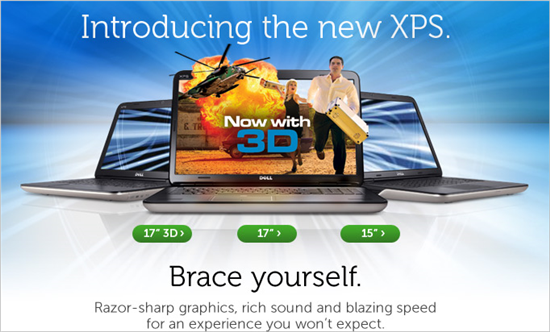 The Dell XPS 17 3D incorporates a 1080p 3D panel which provides users with a large and impressive 3D experience. The 3D Panel is a nice addition, allowing users to play more than 500 3D games and watch Blu-Ray 3D movies. In addition to the 3D Panel, the XPS 17 3D uses the new 2nd Generation Intel Core i family of processors and can be configured with up to the NVIDIA GeForce GPU GT 555 GPU with 3GB Video RAM. If you want to max the machine out, you can stuff up to 16GB of RAM in the XPS 17 3D.
Also updated is the Dell XPS 15, which now has the latest Intel Sandy Bridge processor options and up to 8GB RAM. The XPS 15 can be configured with up to the NVIDIA GT 540M mobile graphics with 2GB Video RAM.
Other enhancements found on the Dell XPS 17, XPS 17 and XPS 15 include;
Dual Core and Quad Core Processor options
Support for NVIDIA Optimus on Core i7 processor models (not with 3D)
Up to 1080P display on both models.
WiDi on the Core i7 model
Chiclet keyboard design
SkypeHD certified webcam
JBL Speakers with Waves Maxx audio enhancement
USB 3.0
Dell Stage Software – easy access to your
We had a chance to listen to the Waves Maxx audio enhancing software at CES and were impressed with the boost in quality achieved through the software enhancements. If you care about audio, these notebooks should be on your radar.
The Dell XPS 17 3D starts at $1,099 with a 2.3GHz Core i5 processor and the Nvidia GeForce GT550M GPU while the non 3D XPS 17 will kick off at $899.
The Dell XPS 15 starts at $1,069 with a 2.7GHz Core i7 processor and the NVIDIA GT 525M GPU with 1GB RAM.
All of the new Dell XPS models are available for purchase right now. You won't see the Dell XPS 14, which is no longer for sale.
Advertisement