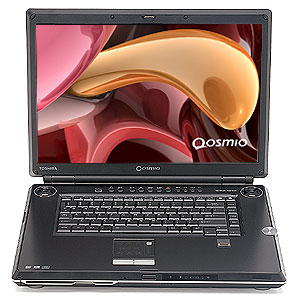 Toshibaâ€â"¢s just chopped $500 off its Qosmio G35-AV660 HD DVD notebookâ€â"¢s price tag, bringing it down to $2,999. The multimedia powerhouse comes with a 2.0 GHz Core 2 Duo, dual 120 gig hard drives (240 GB total),2 gigs of memory, HDMI out your HDTV, TV Tuner and a 1920×1200 high def 17-inch widescreen display. While the Qosmio specs are impressive, keep in mind the HD DVD vs. BluRay battle is far from over and you donâ€â"¢t want to be stuck on the wrong side of the latest format war.
The above model's cheaper cousin, the
Toshiba Qosmio G35-AV600 notebook
is a little lighter on the specs (Core Duo at 1.8 GHz, 1 gig of memory, dual 80gig drives,no HD-DVD, no HDMI), but the price is a lot easier to swallow at $1,899.
Advertisement