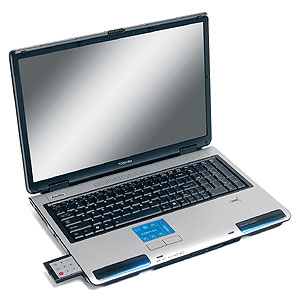 Toshiba's Satellite P105 and Satellite U205 notebooks will soon ship with either Windows Vista Ultimate or Windows Vista Home Premium.
The Satellite P105 is a 17-inch, 7.1-pound notebook with built-in harman/kardan speakers. Both the new Satellite P105-S6207 and P105-S6217 feature an Intel Core 2 Duo T5200 processoor (1.6GHz), USB TV tuner and 2GB of memory. The P105-S6207 ($1,599) comes with a 160GB drive, and the P105-S6217 ($1,649)comes with a 200GB drive.
Toshiba is also upping the ultraportable Satellite U205 to run Vista. The Satellite U205-S5057 includes a 160GB hard drive and 1GB ofmemory for $1,299. The Satellite U205-S5067 has a 160GB hard drive and 2GB of memory and will run $1,599.
Advertisement