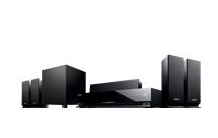 Amazon is selling the Sony BDV-E370 5.1 Blu-ray Disc System for just $239 today, one day ahead of Black Friday. This home theater in a box includes an 850W amplifier with built-in Blu-ray Disc player, five speakers and a sub-woofer.
The Sony BDV-E370 has an MSRP of $399.99. Amazon previously had it on sale for just $239. As part of its Gold Box promotion, Amazon is taking an additional $40 off for a total of $160.99 or 40% in savings.
In order to view 3D content you'll need to purchase 3D glasses (sold separately by Sony resellers) as well as 3D content. The most logical choice here would be to pick up a couple of 3D Blu-ray disc titles.
The Sony BDV-E370 comes with the technology necessary to decode Dolby Pro Logic, Dolby TureHD and Dolby Pro Logic II. The technology allows viewers to hear the audio tracks of movies how the director intended.
At this price, don't expect to get anything close to audiophile quality sound. However, this system is more than capable of complimenting your HDTV experience.  Virtually any 5.1 home theater in a box system is better than the tiny speakers that are inside of your HDTV.
Visit this page for a full list of Black Friday Deals. Or visit this page for more Black Friday deals from Amazon.com.
Here are the technical details of the Sony BDV-E370 5.1 Blu-ray Disc System:
Product Features
850W watt 5.1 channel surround sound (142Wx5+140W)
BRAVIA Internet Video: Access movies, music, videos & more
WiFi Ready & 3D Blu-ray Disc playback capability
Quick Start/Load to watch movies faster than ever
Enjoy music, photos and video via front USB slot
Technical Details
Brand Name: Sony
Model: BDVE370
Output Wattage: 850
Component Type: Home theater system
Audio Output Mode: Surround Sound
Surround Sound Effects: Virtual Surround Mode
DVD Type: Blu-ray disc player
Built In Decoder: Dolby Pro Logic IIx, DTS-HD decoder, Dolby TrueHD, DTS-ES decoder, Dolby Pro Logic II, DTS Neo:6, DTS 96/24, Dolby Digital, DTS decoder
Remote Control Description: Universal remote control
Optical Digital Input: Yes
Coaxial Digital Input: Yes
Tuner Technology: Digital
Radio Bands Supported: AM/FM
Advertisement