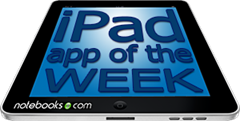 Do you search for images on the Internet to use in presentations, for your computer background, or on your iPad as the wallpaper? Google is great for this, but this week I want to showyou a nice little app that helps you find images using your iPad. It is called ImagePro and costs only $.99 in the app store. It is available for both iPad and the iPhone. You can find out a little more about it at their web site.
In my video review below I demonstrate how to use ImagePro and share some of the benefits, as well as a couple of problems with it.
I use this app to find wallpaper images for my iPad. I have found some very attractive pictures, including the wallpaper image in the video. I have also searched for content to put in presentations to illustrate a point I was making. You can use it for any number of things.
One warning: it can be a little buggy. At times it will just freeze up with a black screen. And a few times it just shut down on me. But the benefit of finding some nice pictures outweighs the occasional crash or freeze. Second, when you type your search term and hit Enter" nothing happens. The enter button should initiate the search. But that is a nitpick.
If I could  improve it with one feature, I would take the resulting search and turn it into a slideshow that you could then show on your external display via the Dock to VGA dongle.
On the positive side, the Surprise Me!" feature that I demonstrated in the video is really cool. With it you can find some nice pictures you would not have even thought about searching. Also, as one reviewer said in the app store, "After you purchase this, there is no need to purchase any wallpaper apps!" I agree.
Pros:
Great filtering tools
Searches many kinds of image types
Helps you find certain kinds of pictures like faces or just photos, etc.
Surprise Me! is neat for discovering content you would not have considered looking for
Inexpensive
Cons:
Some crashes and freezes
The Enter button does not initiate search when finished typing
Sometimes can be slow to redraw thumbnails this is more a problem with the Internet than the app
Wish it would turn found images into a slideshow
Advertisement