Glif is an iPhone 4 accessory that helps photographers mount their phone on a tripod. It can also be used as a kickstand so users can watch video, type, or any other reason one might need to hold the iPhone 4 up at an angle. Thanks to our editor, Xavier Lanier who posted this at our sister site Gottabemoble, we learned about this cool little device.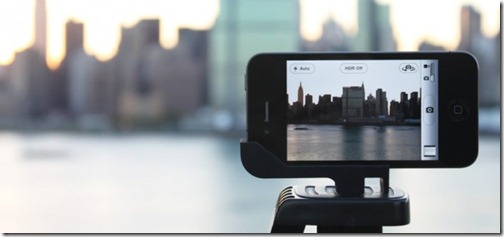 Glif is not an ordinary company selling a product. Instead the creators of Glif are using Kickstarter.com to get their project going. Kickstarter helps entrepreneurs raise funds directly from customers. If you think Glif or any other project is worthy of production you can invest in small amounts to help get the product off the drawing board and into the real world.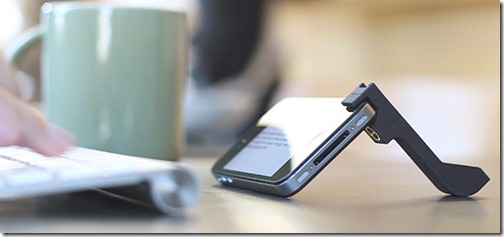 Glif promises that if you contribute a minimum pledge of $20 you will get one of the first devices to be produced. For $5 you will get The sweet, sweet satisfaction of contributing to an awesome project." In other words you get nothing, except your name on their web site as a contributor. For $50 you get the Glif itself and a "3D printed" Glif after the funding ends. In other words you will get a special preproduction unit to try out. And for $250 you also get dinner, if you are in New York, or a Facetime call, if not. Plus your name will be listed as an executive contributor."
Sadly, the Glif will not work if your iPhone 4 is in a case. Their web site says, "The Glif was designed specifically for a caseless iPhone 4 (as God intended)." If god is the creator, then god said put a case on it to make it work right, so I'm not sure if their comment is entirely accurate. But it still looks like a nifty tool for those of us who like to use our iPhone 4 for video and pictures. I'll be pledging my $20 soon.
Advertisement