Adobe's Photoshop software is good – there's a reason it's the gold standard in image manipulation – but it comes at a pretty high cost. We've put together some of the best Photoshop alternatives out there, and they're all much cheaper.
Back in the day, you used to be able to buy a copy of Photoshop, and once you paid for it, you owned it. Upgrades weren't necessarily free, but they were heavily discounted. These days, upgrades are free, but your software only works when you pay every month. While Adobe manages to sweeten the pot by adding in a number of services like mobile apps and cloud syncing, the fees add up – the cheapest Creative Cloud plans that let you access Photoshop cost either $120 a year or $20 on a month-to-month basis.
Before we jump into the list of Photoshop alternatives, there are a couple of Adobe apps you should look at – apps that are still available without a recurring subscription. If your interest in Photoshop lies primarily with its photo manipulation abilities, Adobe's Lightroom application is still available as a standalone title; you can buy it once and own it forever. You can snag it from Amazon for $143, which is about the same cost as a year's access to the cheapest Creative Cloud plan.
Adobe also makes a less powerful version of Photoshop known as Photoshop Elements. You can pick up the current version, Photoshop Elements 14, for just $77, just half the price of Lightroom. While you'll miss out on some of Photoshop's more powerful features, you do get some of the more impressive ones, like their new dehaze filter (which can quickly clear up a foggy photo).
Pixlr – Free or $15/year
Pixlr is a surprisingly versatile web app. The web, in general, has gotten increasingly powerful in the past few years, and Pixlr is a great example of it. It offers a few simple tools like filters and stickers and overlays, but it also has some surprisingly strong features, like support for layers and other non-destructive editing tools.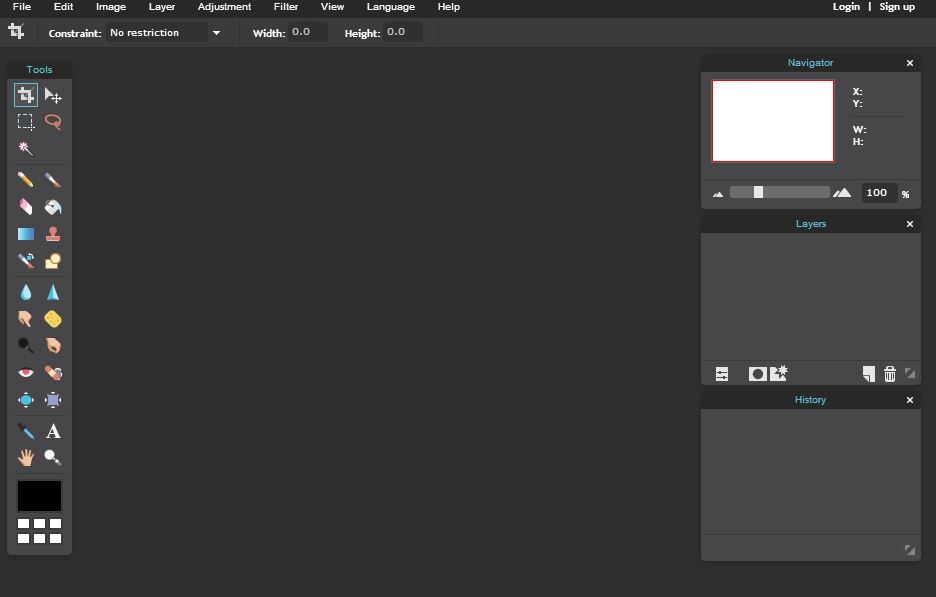 The company has also put out mobile versions of their apps and a chrome extension for some offline editing. After Autodesk acquired the site, Pixlr also put out a desktop app; while it's a subscription service like Adobe's Creative Cloud, it only costs $1.99 a month, or fifteen bucks a year. Head over to Pixlr.com to try it for free.
GIMP – Free, open source
GIMP (the GNU Image Manipulation Project) is practically historic when it comes to freely available software – but unlike most older projects, it's been constantly updated with bug fixes and new features. Those features make it one of the most powerful image manipulation applications outside of Photoshop itself. It's actually available for Windows and Linux in addition to the Mac, which makes it a great option if you use your Mac in a mixed-computer household.
Unlike most of Photoshop replacements, GIMP actually supports a robust extensibility framework, with a number of common programming languages. That sounds complex, but what it means is that you can find third party plugins for GIMP, just like with Photoshop. GIMP also supports all the other complex Photoshop features you're used to, like layers, masking, channels, and curves. Where it tends to fall behind is in supporting advanced features and new camera formats. If you're looking for a photo-centric replacement, GIMP might not be what you need, but if you're looking for something more on the graphic design end of things, GIMP could do the job well. Download a free copy from Gimp.org.
Pixelmator – $30
Pixelmator is one of our favorite apps, Photoshop replacement or otherwise. It features a gorgeous user interface, and really typifies what a Mac app should look like. Unlike some of the free options on our list, Pixelmator's cost includes getting support from responsive developers, in addition to free point updates.
One of the cooler Pixelmator features is its support for iOS. Use it on your Mac, then install it on your iPhone or iPad, and pick up where you left off. While Pixelmator is sold in the Mac App Store, you can download a free, 30-day trial straight from the company's website.
Affinity Photo – $50
Affinity Photo is from Serif, which also publishes the popular Affinity Designer design software for the Mac. Affinity Photo is their newest product, and actually rated as the top Mac app for all of 2015 by Apple. One of the features that sets this app apart from the others on our list is its appreciable support for RAW files – the "raw" photo recorded by DSLRs and other serious cameras. Most Photoshop alternatives tend to fall down in this area.
Affinity Photo scored a big update in December, which added support for the new DCI-P3 panels found in the latest 5K iMacs, panorama photo stitching, and a haze removal filter (one of the best new Photoshop features). It also adds extensions for use in Apple Photos; it really integrates into your Mac better than just about any other photo software, including Photoshop. Serif offers a free, 14-day trial of Affinity Photo on their website, after which you can snag it in the Mac App Store for $50.
 Acorn 5 – The Image Editor for Humans – $30
Acorn 5 comes from a company called Flying Meat, Inc. As the names of both the company and the app might intimate, they don't take themselves too seriously. Don't take that to mean that their app isn't any good, however, because it's a powerful program that prides itself on being easy to use. Like Affinity Photo before it, Acorn 5 supports 30-bit displays, like those found in the latest 5K iMacs.
One of the things we really like about Acorn 5 is the huge list of free tutorials that Flying Meat created to instruct users on how Acorn works. There's a set of text and video tutorials that cover just about any feature you can find in the app, from saving an image and straightening a photo to blurring a background and artificially aging a person's face. Flying Meat offers a 14-day free trial of Acorn 5, but the full version is available both in the Mac App Store and on Flying Meat's website for just $30.
Advertisement