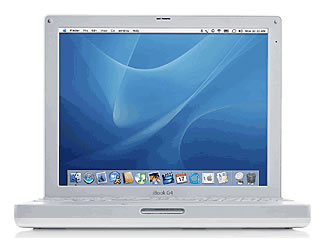 Many consumers found their Apple G4 iBooks suddenly died after about a year, just beyond the expiration of their warranties. Denmark's National Consumer Agency launched an investigation after the Consumer Complaints Board (C.C.B.) received several complaints.
Apple has previously denied claims of design and manufacturing flaws causing the problem.
The investigation showed solder joints between two components had broken, so a current could no longer pass through them. The breakage was found to occur because the joints loosen slightly every time the computer is turned on and off.

"It is a bit like a person dying a little bit every time he breathes because the cells break down," C.C.B. lawyer Frederik Navne waxed poetically. "In the same way, the computer dies a little every time you turn it on and off."

As a result, the C.C.B. determined that Danish consumers will be able to return computers with the fault to Apple. Apple International is beginning to settle a number of cases in Denmark on the basis of the investigation.
via The Resister
Advertisement