Following up reports of a shortage of MacBook Pro models in retail channels it looks like Apple may be prepared to deliver a MacBook Pro refresh within the week. Rumors point to an announcement of upgrades to the MacBook Pro line, delivering new Second Generation Intel Core i processors, on February 9th and the arrival at retail in early March.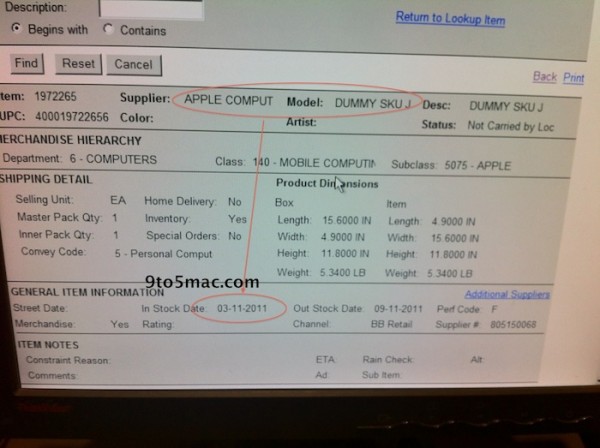 Credit: AppleInsider
The MacBook Pro models are ready for an upgrade based on the time since the last upgrades and could as it appears the update could signal a much desired processor upgrade for the 13″ MacBook Pro model which was skipped over during the last MacBook Pro upgrade in April 2010.
The latest sign comes from Best Buy screenshots which show a new MacBook Pro model arriving on March 11th. The dummy SKU, created by Best Buy to put a product into the system ahead of launch, is for a 13″ MacBook Pro with a price of $1,199 so we don't expect to see any pricing changes.
It's unlikely that the MacBook Pro refresh will include anything major, like a new design or lack of an optical drive, but users will be happy to see the latest processors making their way into MacBook Pro models.
If you are in the market for a new MacBook Pro, you would be well served to wait and see what happens on Wednesday. Otherwise it may be until April before an announcement is made since it will take Intel a while to get supply of the Sandy Bridge processors up to speed after a chipset issue caused recalls from many manufacturers.
Advertisement