DragonDrop helps Mac users move their files around in finder with a creative tool that sits in your Menu Bar and activates when you need it. It acts like a temporary shelf to store your files so you can find the new folder to drop them. Let me show you how it works.
Open a Finder folder and select the file or files your want to move. Now either drag them to the icon in the Menu bar or shake your mouse until the DragonDrop box opens. It has a flared pattern that rotates.
Watch DragonDrop in action in the video below.
Drop the files on the box and then find the new spot where you plan to place the file or files. Drag the file or files from the DragonDrop box to the new folder and the box disappears. DragonDrop copies the files to the new place.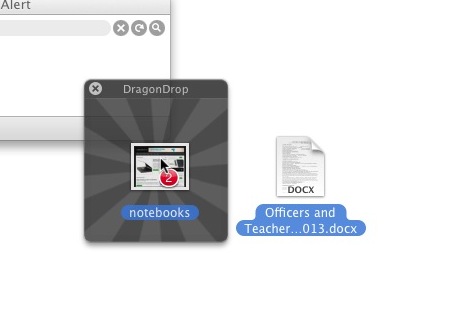 It works with any kind of file you can store on your hard drive and it works with websites. Just drag the website's address bar icon to the DragonDrop box just as you would a file. Then, open a new browser and drag the site to that browser window's address bar. You might need to test a site in more than one browser. This offers an easier way to do that than typing a long site's URL each time.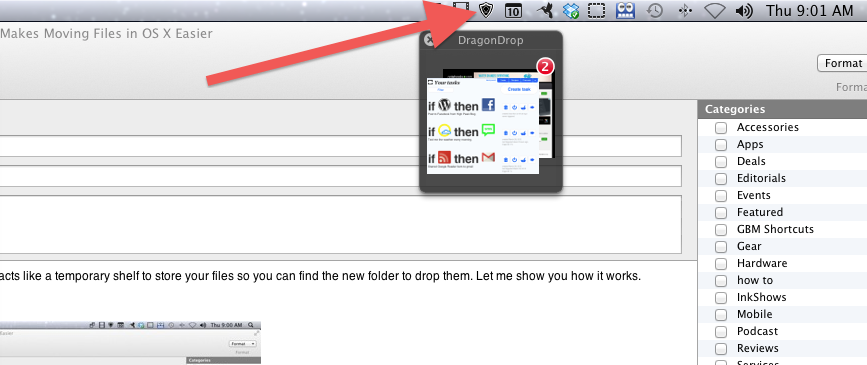 I love this utility. It costs $4.99 in the Mac App Store, which seems a bit steep. It feels more like a $2 app. I wish the feature would show up in a future release of OS X.
If you want a free taste, go to the app's website and get the free trial version. If you like it buy it in the App store.
I had one difficulty, which you can see in the above video. If you drag the files, shake the mouse cursor and them move the cursor too far after the DragonDrop box appears, then it goes away. If you're dragging a bunch of files, the files icons can mask the box making it hard to see that the box appeared. Aside from the cost, that's my only complaint. I recommend it to OS X users who do a lot of dragging and dropping of files. I installed it on all of my systems.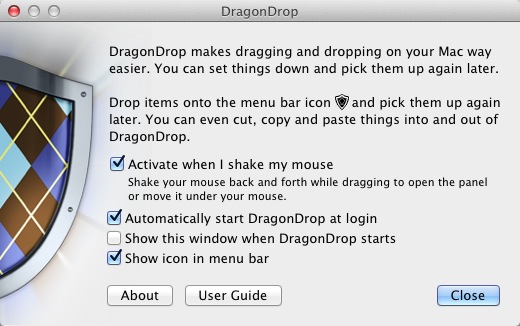 You can set DragonDrop to start at login, which you'll want to do. You can turn off the shake feature and only use the Menu Bar if you want. Or you can turn off the Menu Bar icon and only use the shake feature.
Advertisement