Due to a very limited supply of 15 and 17-inch MacBook Pros in the retail channel, some are wondering if there is a refresh of Apple MacBook Pros on the way. These shortages usually happen when Apple is about to refresh their products as the company lowers the supply so as not to get stuck with too many older models.
The latest signs come from MacRumors which bases their report on sources saying that there are fewer 15″ and 17″ MacBook Pros in Apple stores. Also, a major retail chain is now unable to "fulfill replenishment orders" for their chain stores.

The lowest supply is for the 17″ models, specifically the 17″ MacBook Pro Core i5 models on Amazon which have shipping dates of 1-2 months, something which is very unusual for Amazon. The Apple store itself has enough to ship within 24 hours, but this could just be Apple keeping their stock so they can sell them at a premium instead of supplying third-party stores.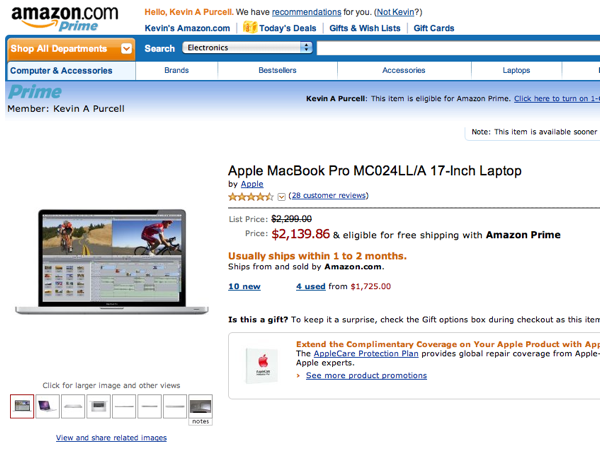 If Apple is going to update their models what can we expect? With the release of the 13.3″ MacBook Air would we see the 13″ MacBook Pro discontinued? This could be the reason 15 and 17 inch models are scarce but 13-inch models are not. It is very likely that we will see intel's new Sandy Bridge platform, which incorporates their faster 2nd generation Intel Core i5 or i7 processors and integrated graphics capability without the need of another GPU.
Apple was clear that their MacBook Air was the future of computing so we could see some of the great tech in those models included, like the SSD storage offering Instant On capability and possibly longer battery life.
When will these refreshes come, if at all? Only Apple itself knows, but the last updates were a very minor one in the fall of 2010 and a major one was last April. So we would advise holding off on a MacBook Pro purchase until late spring unless you just have to have a new laptop and want an Apple.
Advertisement