Another rumor surfaced that a new 13-inch MacBook Pro with Retina display might show up along with the forthcoming iPad Mini at a press event on October 23rd.
GottaBeMobile shares details about what to expect at the rumored iPad Mini event, including a 7.85-inch iPad. Now it looks like the new 13-inch MacBook Pro with Retina Display we reported on in August may join the smaller iPad.
9to5Mac reports that a "consistently reliable source" says a new 13-inch MacBook Pro with Retina should show up next week. It will come with a thin, lighter design and display with a higher pixel count like the 15-inch MacBook Pro with Retina Display.
The display adds a premium price starting on the current MacBook Pro with Retina Display, which starts at $2,199 while regular 15-inch MacBook Pro starts at $1,799. The 13-inch version will also sport a premium price over a standard 13-inch MacBook Pro according to the report.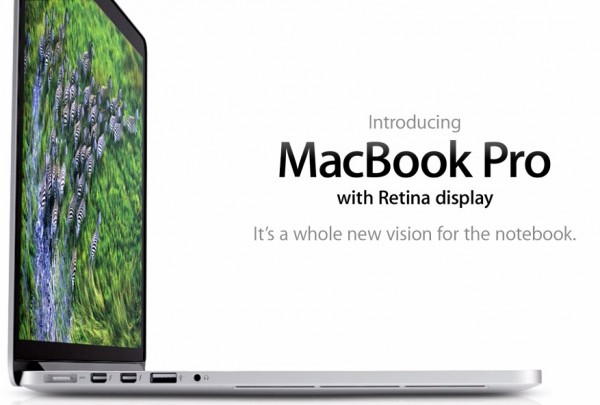 Buyers get more than just a prettier display, however the cost of the display and the new design makes the Retina models a steep investment. For the extra cash a buyer gains double the RAM going from 4GB to 8GB in base configurations. The buyer also gets a solid state drive instead of a traditional optical hard drive, which is faster, but offers less storage.The MacBook Pro with Retina Display also ships without a DVD drive.
The reports didn't tell us the prices for the rumored 13-inch version, but assume that it will also add a significant cost to the computer. If they add the same $400 the lowest cost 13-inch model with retina will set buyers back $1,599 as the 13-inch MacBook Pro currently costs $1,199.
The rumor claims that Apple will give us an option of two configurations, the same as the 15-inch versions. They will also continue to sell regular 13-inch MacBook Pro laptops.
Check out GottaBeMobile's 15-inch MacBook Pro with Retina Display review for more information about the pixel packing portable machine.
In the past Apple often introduced updates to Macs without ever mentioning them at press events. It's also possible that Apple might add it to the Apple online store around the date of the press event. However, the upgrade to the 15-inch MacBook Pro took center stage at Apple's WWDC conference earlier this year.
Advertisement