Apple added a new Apple MacBook Pro with Retina Display to their line of flagship MacBooks. The amazing Retina Display seen in the iPad 3 (The New iPad) and the iPhone 4 and iPhone 4S now comes on a 15.4″ screen.
That means users can now buy a MacBook Pro with a display resolution of 2880-by-1800 resolution at 220 pixels per inch. It also adds features like faster processor and a 768GB SSD option to a smaller and lighter body.

Apple chose to drop the 17″ MacBook Pro while also updating the 13″ models and 15″ models that don't sport a retina display. Here are the details about the new flagship Apple MacBooks with Retina Display.
MacBook Pro with Retina Display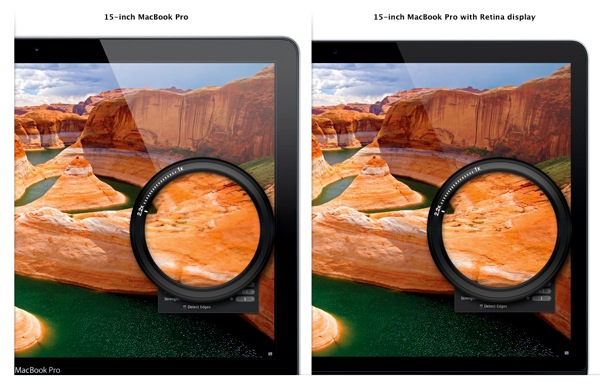 What does a Retina Display give you?
The new MacBook Pro with Retina Display is more tempting in the flesh and many MacBook buyers will up sell themselves to the pricey machine once they put their hands on it. There's no doubt that the new MacBook Pro with Retina Display sets a new standard, but there are some drawbacks that make the $800 premium over The standard MacBook Pro tougher to swallow.
That's what Xavier Lanier wrote at GottaBeMobile when he got some hands-on time with the MacBook Pro with Retina Display at the San Francisco Apple store. He plans to do a full review once he gets the new machine, which will take at least a couple of weeks thanks to high demand.
Those who use an iPhone 4/4S or the new iPad know that the new Retina Display, with its incredibly high pixel density, gives razor-sharp text and amazing looking graphics. It also puts more on the screen at once. Until the rest of the world catches up though, the retina display also makes some websites and applications look a little fuzzy. Its like using and iPhone app on the iPad in 2X mode.
The Specs
Every MacBook pro with Retina Display comes with the high-resolution 15.4″ display a minimum of 8GB of RAM and both Intel HD Graphics 4000 for less graphics intense applications and NVIDIA GeForce GT 650M graphics with 1GB of GDDR5 memory. The machine switches between the two graphics systems automatically when the higher power needs to turn on.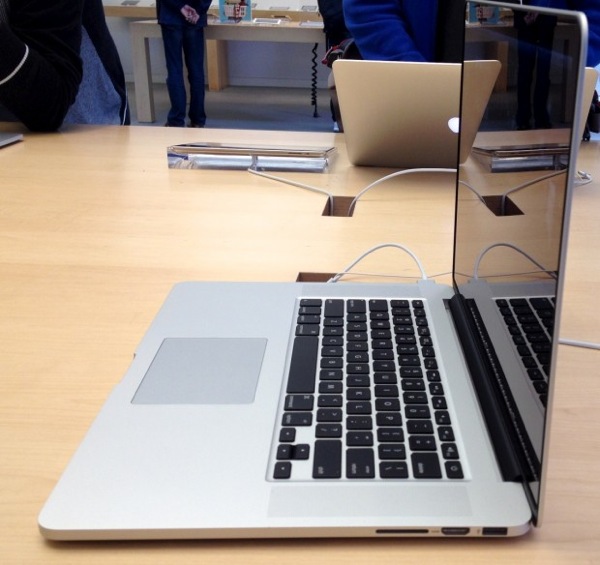 A thinner design than the current generation machines houses all this horsepower. It measures just .71 inches high and weighs only 4.46 pounds.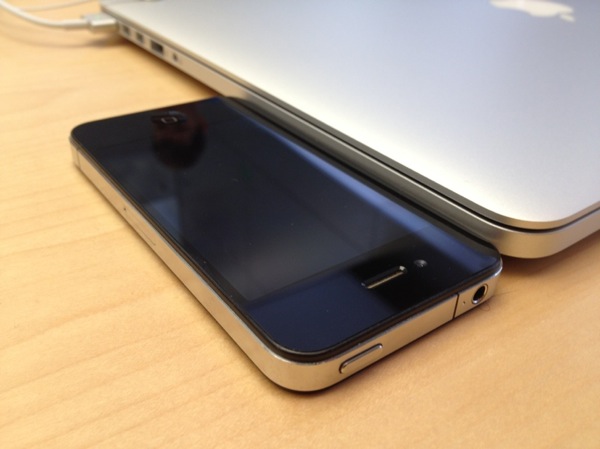 The ports available include Mini DisplayPort, two Thunderbolt ports instead of just one, two USB 3.0 ports instead of USB 2.0, a new HDMI port, headphone jack and an SDXC card slot. It no longer includes a Gigabit Ethernet adapter or Firewire. You'll need an adapter for $29 to use either. See the left side ports below.

Here are the right side ports.

The new MagSafe power connector takes up less space and uses a different shape than older machines (see below).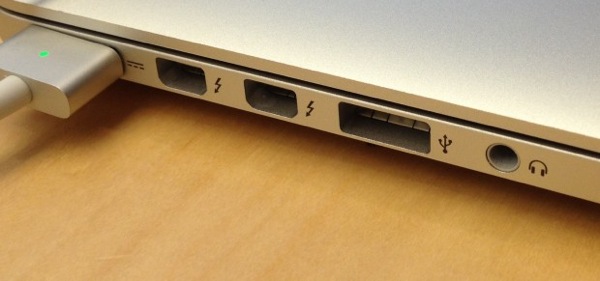 Configuration Options and Prices
Customers can pick between two base configurations of the new MacBook Pro with Retina Display. One starts at $2,199 and comes with 2.3GHz quad-core Intel Core i7 processor and 256GB SSD drive. The more expensive $2,799 model comes with 8GB of RAM and 512GB of storage. Adding 8GB of RAM will cost $200. Buyers can add a faster processor (2.7GHz instead of 2.6) to the more expensive base configuration for $250 and an even larger SSD (768GB instead of 512GB) for $500 more.
Buyers should consider some accessories like an external DVD drive since the new MacBook Pro doesn't include a built-in optical drive. Those needing to plug into VGA, DVI or an Ethernet LAN can add dongles that cost  $29 each.
For more details see Apple's site or watch the video Apple posted detailing the new Macbook Pro with Retina Display.
You can also get all the details about Apple's new MacBook Air and the MacBook Pro refresh without the Retina Display.
Advertisement