Apple announced that Safari 5, its latest desktop Internet browser is now available for download. Apple claims that the new version of Safari is 30 percent faster than Safari 4. The new version of Safari is available starting today at Apple.com/safari for both Mac and PC users. The announcement of the new browser apparently didn't warrant inclusion during Steve Job's WWDC keynote, where he announced the iPhone 4.
Safari is the default web browser on Mac desktops and notebooks. A small minority of PC owners install and use Apple's browser as an alternative to Microsoft's Internet Explorer.
One of the most notable changes in the new version of Safari is that users will now be able to choose between Google, Yahoo! and Bing to power the browsers' search function. Previous versions of Safari only offered Google Search. Other web browsers, such as Internet Explorer, have allowed for various search engines for quite a while.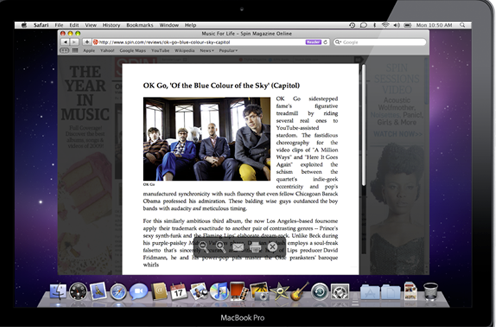 A new feature called Safari Reader allows for less cluttered article reading. When the browser detects an article on a web page, the user has the option to click the Safari Reader icon to focus on the article's text. This strips away the Web site's other elements, such as advertising and widgets.
Users shouldn't expect Safari to speed up their entire web browsing experience. Your Internet service provider may still be the bottleneck when attempting to access large files, movies and streaming services. Apple's claim of a 30 percent faster browser refers to its speedier JavaScript engine. This speed improvement is only being attributed to Safari 5 on a Mac and no claims are being made about the PC version of Safari 5. The new web browser does have a couple of other tricks up its sleeve to speed up web browsing. It pre-fetches certain information necessary to access web pages linked to the pages you're currently visiting. Safari 5 is also more efficient by using data already stored (cached) on your computer.
Safari 5 is also optimized for HTML5, a web standard that Apple is pushing forward. Safari 5 supports HTML 5 features including Geolocation, form validation and section elements.
Apple's encouraging developers to build Safari Extensions, add-on applications that augment the browser's functionality.
For Macs, Safari 5 requires OSX Leopard or OSX Snow Leopard. If you're on a PC, you need Windows XP SP2 or above, 256MB of memory and at least a 500MHz Intel Pentium processor. Any PC that's been released in the past several years will be able to run Safari 5 without any problems.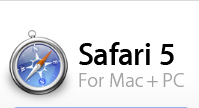 Owners of new MacBook Pros should consider using Safari while unplugged to maximize battery life. Apple's new automatic switchable graphics found in 15″ and 17″ MacBook Pros works best with Safari and does not force computers to use NVIDIA graphics for simple tasks like checking email. Firefox and Chrome have not been optimized for the new switchable graphics, and force the new MacBook Pros to unnecessarily switch over to NVIDIA graphics when performing mundane tasks such as checking GMail.
The PC version of Safari 5 supports hardware acceleration, which means the browser can utilize your PC's graphics card.
Apple's Safari 5 is available now for free from Apple.com/safari.
Advertisement