As part of the iLife 11 suite introduced today Apple let loose a new version of iMovie that comes with many new features aimed at making it even easier to use iMovie to create and share your movies with friends, in cool formats.
New iMovie '11 features:
Better audio editing
One Step Effects
People Finder
News and sports themes
Movie Trailers
Audio Editing: One of the things Apple wanted to do with this release was to make a complex task like audio editing simpler. One of the new changes is the ability to adjust segments of audio, something you used to be able to do in old versions of iMovie.
Another cool audio editing feature which was added to iMovie is audio effects. With a few clicks you can change the audio properties or a clip. This means you can change pitch or speed of a voice or clip to really make a clip. You can jump in and use an effect with a couple of clicks using presets to quickly change your audio. In the demo, Apple showed of a classic "Luke, I am your father" clip
One Step Effects: Another new feature is One Step Effects which make it easy to add effects to your movies with just one click. Various effects include the ability to, with a click, add an instant replay at 50% speed with an Instant Replay banner or add a quick freeze frame to highlight an important moment.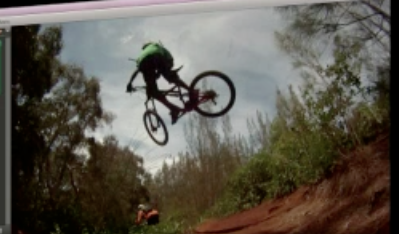 People Finder: Apple took the face finder from iPhoto and built it into to iMovie so that it's easy to find a clip with the person you want to in it. Even more than just finding the person, People Finder in iMovie will allow you to look for specific types of shots such as group, close up, medium or wide shots which come in handy when you want to make a movie trailer.
Movie Trailers: Rather than sharing hours and hours of video with friends and family, why not cut that down to a best of movie trailer with iMovie '11. The new Movie Trailer tool comes with 15 themes that include original scores from the London Symphony Orchestra .
The Movie Trailer uses storyboarding to help you select clips that make sense and flow with the music. The storyboard mode uses a cast selection to build in close-ups and group shots, which thanks to People Finder are easy to find.
When it comes time to share with your family and friends Apple has added more sharing options including Facebook and Vimeo.
iMovie '11 is part of iLife '11 which is free with all new Macs and available today as a $49 upgrade to existing Mac owners.
Advertisement