Apple will release a refresh of the 2nd generation MacBook Air next week according to rumors. If you act quickly, you can sell yours now and help defray the costs of an upgrade.
We expected an update this week along with the release of Mac OS X Lion, but that didn't happen. Now, one reliable source often proven correct about all things Mac, reported that the refresh won't happen until next week. All Things D quoted a source which said, "The rumor sites are off by a week."

We reported that the refresh should include the following:
Intel 2nd Generation Sandy Bridge Core i3 or higher processors
NVIDIA GPU to replace the integrated graphics chip
Thunderbolt port
We've read about these rumored changes, which include:
Increased RAM from 2GB base config to 4GB
Increased storage space from 64GB base config to 128GB
increased high-end storage space from 256GB to a higher amount
Faster RAM and SSD
Backlit keyboard like the original MacBook Air
If you own a current generation MacBook Air and want to upgrade, you have a few options for getting some cash to help with the cost of the upgrade.
Gazelle
A technology buying site that offers cash for your older gadgets. A 13.3″ 2.13GHz Intel Core 2 Duo MacBook Air with 2GB of RAM and a 128GB SSD you will bring an offer of $447. Not great, but it makes that new MacBook Air more affordable.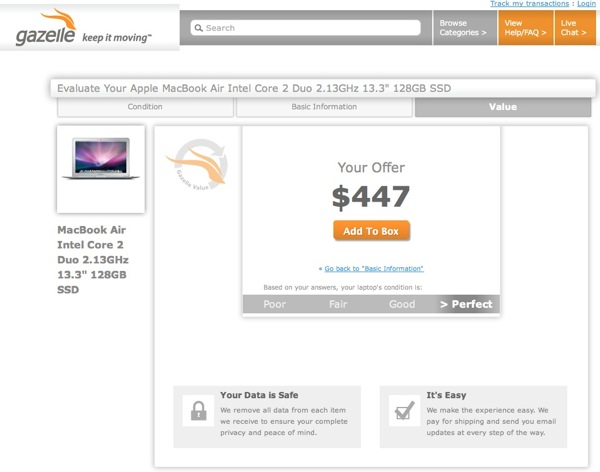 eBay
If you don't mind the risks and expense of eBay, you will earn twice what you get from Gazelle. We searched for the same MacBook Air and found four completed listings with the above specs. Two sold at $1,010 and $1,025, while two went unsold for $1,099 each.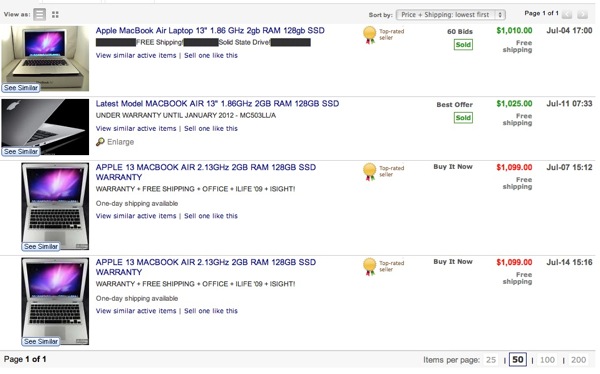 Craigslist
On the free classified ads site Craigslist, we found six MacBook Airs listed in our area for between $725 and $745. This will vary based on the region in which you live. Craigslist doesn't charge for listing items and you get a face-to-face transaction (if you follow their strong recommendation to not deal with non-local buyers, as that usually results in a scam). You also don't get the eBay reputation system to judge if a seller or buyer has a good history or not.

Others
Some other gadget buying services that we have not used include:
Advertisement