Benchmarks of the new MacBook Pro are showing that the refresh is going to bring a nice performance boost for users. The biggest difference between the older models and this year's is the processor and graphics chipset. Apple went with Intel's brand new Sandy Bridge version of the Core i3, i5 and i7 CPU.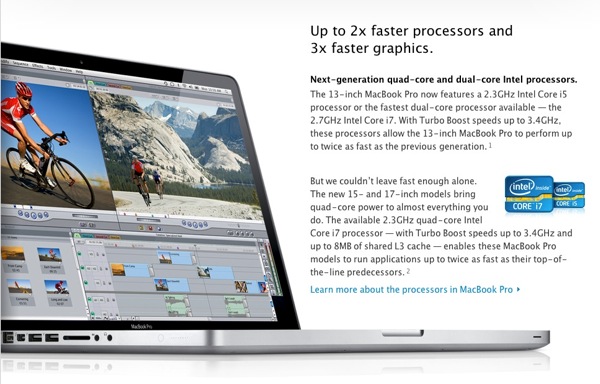 That's a big boost especially for the 13″ model which previously only had an Intel Core 2 Duo processor. Apple is also adding AMD's faster Radeon graphics chips that will automatically engage when needed. The Intel HD 3000 graphics that are part of the Sandy Bridge platform runs the rest of the time, saving battery life.
The combination of the above pair of upgrades to the specs should produce an escalation in benchmark numbers and real-world experience. The test results do not disappoint.
One set of benchmarks comes to us from Primate Labs. Their Geekbench 2 test showed a nearly 100% increase in the 17″ model with an Intel Core i7-2820QM 2.3GHz Quad-core processor. It went from a score of 5,837 to 10,165. You would expect that when going from dual-core to quad-core processing power.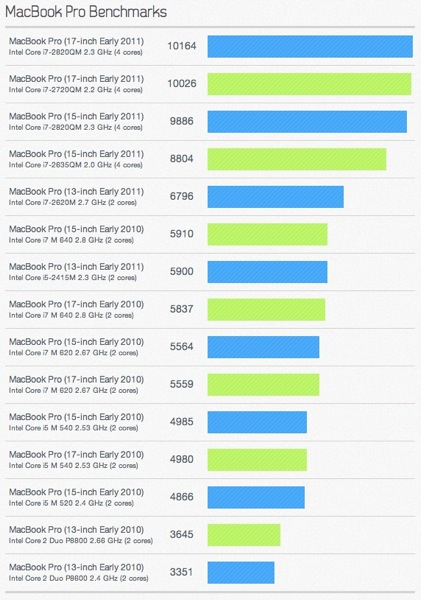 When comparing dual-core systems from this year and last, there was also a nice increase. A MacBook Pro 13″ with a dual-core i7-2620QM 2.7 GHz processor reached a total of 6,796 on the test. The comparable system from 2010, with only a Core 2 Duo hit 3,645. So when you compare the fastest 13″ from 2010 to the fastest from 2011 you also see the benchmark scores nearly double.
9to5 Mac is showing similar results in their tests. If you want to test it out yourself, download Geekbench 2, a free program. Below is an unboxing of the new 15″ base configuration of the MacBook Pro. The video also shows how fast it boots.
Advertisement