Studies released by IDC and Gartner, published at Businesswire, show that Acer's PC shipments in the US and worldwide have plummeted in the first quarter of 2011. These figures include both desktop and laptop figures.
US PC Shipments
According to IDC, Acer saw a 42.1% drop in US units shipped compared to the same quarter in 2010. Gartner's numbers are not as earth shattering, but still quite bad. They predict a drop of 24.9% in the US market during the same period.
Both studies detail the numbers based on preliminary figures. These are not exact figures which will only be available after the various companies release their numbers. Nobody expects it to be much better for Acer in the hard figures.
These numbers explain the recent resignation of Acer's CEO. Acer is likely struggling due to the lagging interest in netbooks as tablets become more popular in the lower cost computer segment. Tablets don't factor in these numbers, but now that Apple has released two iPads and many other companies are releasing Android tablets, like the new Asus Eee Pad Transformer announced this week, it will be harder for a budget maker like Acer to compete. Reorganization is expected in the company.
HP dropped in the US market by either 2.4 or 3.5% and Dell fell between 11.8 and 12.1% according to the IDC and Gartner numbers respectively. At the same time Apple increased by either 9.6% or 18.9% based on IDC and Gartner numbers respectively. Toshiba jumped by either 10.4% or 10.9%.
Overall, PC shipments dropped a little bit. Gartner shows a 6.1% drop of total PC shipments while IDC puts the figure at 10.1%. In a down economy in the US that is not surprising. Apple and Toshiba growing by such impressive rates is actually more of a surprise in the current economic environment. Neither company is known as a budget computer maker. Could it be that people on the lower end of the economic scale are not buying or are buying tablets instead, while the upper end are still willing to spend?
Worldwide PC Shipments
When you factor in worldwide growth, another company pops up into the top five figures. Lenovo saw a 16.3% increase in worldwide PC shipments.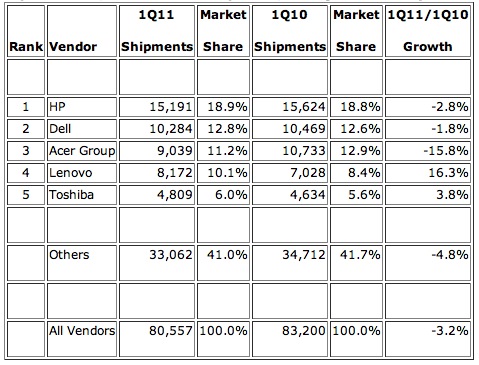 Acer fell the most in worldwide units shipped too with a 15.8% downturn. HP and Dell saw modest drops and Toshiba a modest gain, according to the IDC numbers.
Gartner's worldwide numbers are similar. They estimate a 12.2% decline for Acer. Their other numbers are within a percentage point or two of IDC's. Total PC shipments saw only a 3.2% drop in IDC's figures and just 1.1% in Gartner's.
As popular as Apple is in the US, they do not even show up on the top five lists in worldwide shipments.
Advertisement