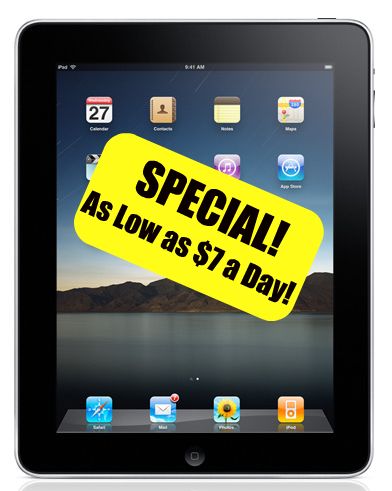 Today Apple unveiled their "latest creation" the Apple iPad. The new Apple Tablet device is a very multi-function device; you can read with it, listen to music, watch a movie, use iPhone Apps, browse the web, create documents in iWork and more. While the iPad may have left out some of the things that many analysts and pundits expected, most notably a webcam, Apple was able to offer the iPad at the relatively affordable starting price of $499 without a 3G connection.
Still, when you look at it $500 is a good chunk of change, especially these days, but since the Apple iPad isn't going to be available to order for another 60-90 days you have plenty of time to make yours affordable by trying out the a long lost trick — saving for it. That's right ladies and gentlemen, children of all ages; with a little forethought you can buy the most expensive Apple iPad for just $9 a day!  That's almost as cheap as the per day savings needed to get the 16GB WiFi only iPad thanks to the extra 30 day waiting period for 3G enabled models.
iPad size
WiFi
Savings Per Day Required

60 days

With 3G
Savings Per Day Required

90 days

16GB
$499
$8.32
$629
$6.99
32GB
$599
$9.98
$729
$8.10
64GB
$699
$11.65
$829
$9.21
Compare this to not saving and putting the iPad on your credit card for a year, which inflates the cost of the entry level iPad to $568 assuming a 13% APR and it's clear that saving for an Apple iPad a day will keep bill collectors at bay!
But wait! Start saving today in a high yield savings account like HSBC or ING Direct and you might even have enough to cover sales tax!
Advertisement