Apple released a new iOS application on the App Store today to aid the iPhone 4 pre-order process. The App allows the purchasing of Apple products,in a dedicated app that is much easier to use than trying to navigate Apple's website in Safari on the iPhone or iPod Touch.
The Apple Store App has five separate tabs at the bottom of the screen, which are Featured, Products, Stores, Search, and Cart.
In the Featured tab, it lists the featured Apple products, with the newest products showing up first.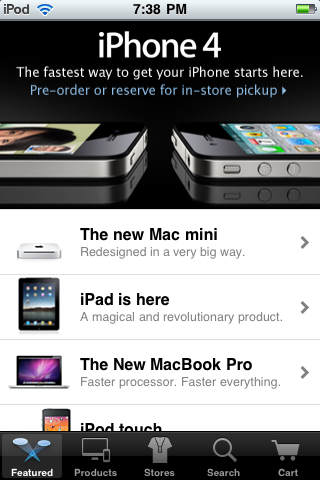 The Stores tab enables you to see featured items or promotions, see a schedule of events at that specific store, and reserve an appointment to have an Apple employee assist you in various ways.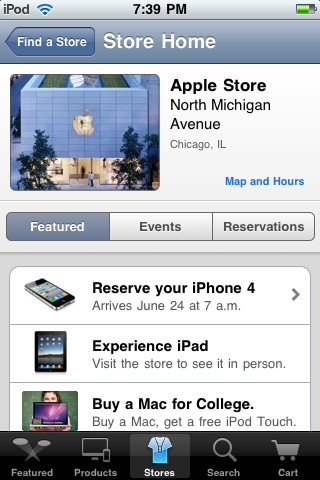 The Products tab lists all of the products that can be found on the Apple Store in your computer's browser. From here, you can select different products and options and add them to your cart.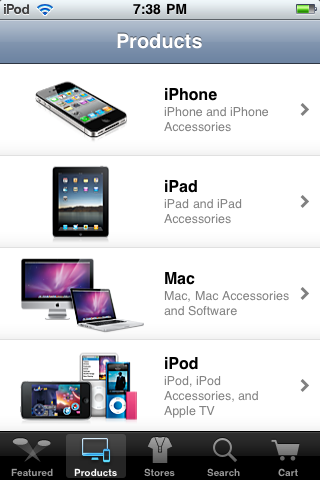 Alternatively, if you know exactly what product you are looking for, you may search for it using the Search tab.
Once you have select a product and added it to your cart, it appears in the Cart tab, showing you the final price and allowing you to Checkout.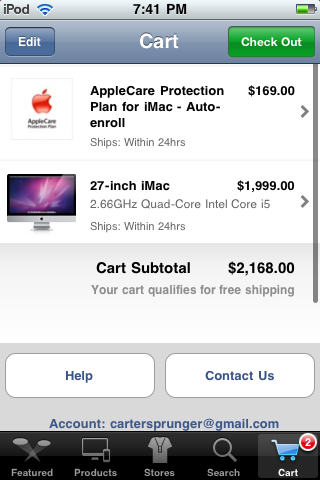 The Apple Store App truly makes researching/purchasing an Apple product a breeze. It may even be a simpler to use than the Apple Store on your computer.
Advertisement