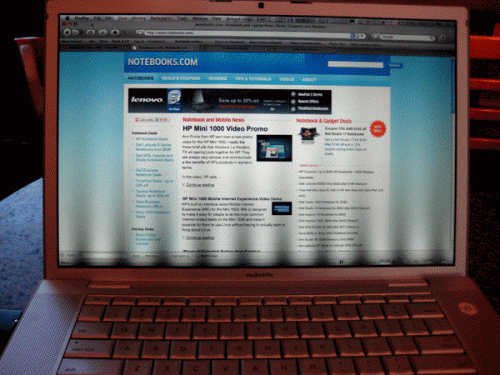 I've had my share of 'bad Apples,' but none was nearly as bad as the MacBook Pro I bought four months ago. Apple products have something against me- maybe because they have to share my attention and desk-space with numerous PC notebooks. That's why I wasn't completely surprised when my MacBook Pro's display did a great Zebra impersonation today. I was completely surprised by the treatment I got at the Apple Store and had one of the best customer service experiences I've had in a long time.
I bought the $2,499 2.5GHz MacBook Pro less than four months ago. Things started off okay, but it crashed way too often, overheated several times (100-degrees Celsius) and the display quickly developed little clusters of grey dots. Apple replaced the entire display assembly, but it didn't fit quire right and the magnet that actuates the sleep/wake function was missing. Another new display assembly was installed and I was relatively happy until today.
I was at a Peet's Coffee & Tea shop in Silicon Valley editing some videos when the display suddenly grew zebra stripes. I restarted the MacBook Pro and the stripes went away for a while, but they came back again and again. I shot this picture of the problem: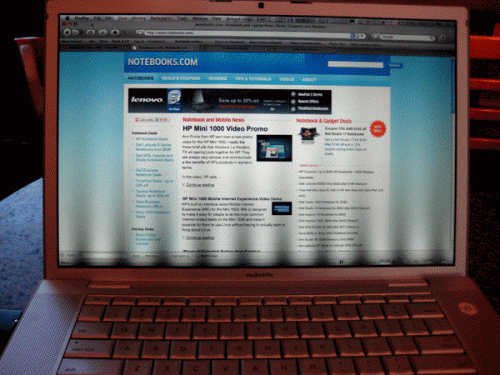 As you can imagine, I couldn't work with the display in this condition and the Lenovo S10 I had with me isn't cut out for video editing. I used my iPhone to find the nearest Apple store and scheduled an appointment at the Genius Bar at 3:25.
I was greeted by a very friendly Swiss Apple employee who was on his last day of training in the U.S. before returning to Zurich to help open a new Apple store. When I booted my MacBook Pro up the display looked just fine and I couldn't replicate the problem so I showed him the above photo. He offered to check the notebook in for repair and worst case scenario they'd have to replace the logic board and/or the display itself.
Obviously my MacBook Pro has already had its fair share of downtime and I don't think it's reasonable for a notebook to be subject to three major repairs within the first four months of purchase. He said he completely understood my frustration and asked one of the Genius Bar managers to assist.
The Genius Bar manager then asked me something that I've NEVER heard before from any computer customer service person. "What would be a satisfactory solution be for you?," he asked.
That might seem like a simple question, but it's something that more companies should ask to resolve customers' issues. It shows that they're actually trying to solve your problem rather than just run you through their standard operating procedures.
I told him that all I wanted was to walk out of the store with a machine that I could count on and not have bring back for yet another repair. I told him that I thought my MacBook Pro was a cursed lemon and that I didn't think I was getting $2,499 of value out of it because of the multiple display issues. I asked him if he had a replacement unit he could swap out for me. I told him I wasn't looking for a free upgrade and that I'd be perfectly happy if they had the "old" 2.5GHz matte MacBook Pro if he had one available.
He kindly explained to me that he normally can't swap out machines that can be repaired, and especially those that have a single problem. He asked me where I purchased it (Amazon), if I had Apple Care (no) and a few other general questions about what I used the MacBook Pro for. He then disappeared into the back room for about 10 minutes.
When he returned he told me that they'd completely sold out of the old MacBook Pros with the matte displays and gave me two choices. Either I could leave the notebook for repair and he'd expedite the service or he would swap my lemon of a MacBook Pro for a newer model, which is only available with a glossy display. I really didn't want to give up the matte display, but I really wanted a machine that "just worked." The Genius made me sign a form that said I was surrendering the old MBP for a new MacBook Pro (2.53Ghz, 4GB memory, 320GB hard drive and NVIDIA 9600GT with 512MB of VRAM) and that I would never ever get to see it again. If I wanted to get any data off of it I had to do it right then.
I should note that I was completely calm in articulating my MacBook Pro's issues and my level of frustration. I know that these guys aren't personally responsible for my computer problems. The result was they were willing to bend over backwards to get me a new machine with relatively little hassle. I could see that the more irate customers whining about their busted Apple gear weren't getting the same level of attention, respect or offers of replacement gear.
I hooked up the new MacBook Pro to my old one with a FireWire 800 cable. I booted the old MacBook Pro into target disk mode and used the migration assistant to transfer more than 200GB of data onto the new machine. The process was painfully slow and took nearly three and a half hours to complete, but I was treated to yet another round of excellent customer service.
While I was transferring my data to the new computer, another Genius was helping a college student and her mom with a MacBook. Apparently the hard drive was acting up and the battery wasn't lasting as long as it used to. It also had several cracks on its case. The student decided she'd just buy a new aluminum MacBook. I told her that she could probably get a few hundred bucks for the MacBook on eBay even if it wasn't in tip-top shape and that someone like myself could fix it up.
There was a shift-change and a new Genius stopped by to make sure the data migration was going ok. We struck up a conversation about MacBooks and iPhones. He was really friendly and was sympathetic to my MacBook Pro issues and to the fact that I was blowing a big chunk of my day sitting at the Genius bar.
The student purchased her new MacBook and her mom came back and asked me if I'd be interested in buying the MacBook for $350. I usually don't have nearly that much in cash in my wallet, but I'd just cashed a check and we made a deal for $325. I now had the fortune of getting a 15-month old MacBook (2.16GHz, 1GB, 120GB RAM and DVD SuperDrive) for $325 that needed what I considered relatively minor work.
The new Genius dude asked me if he could take a look at it and commented that the cracks were most likely due to overheating and that he could repair the MacBook for me since Apple had extended the MacBook's case warranty for three years past the original date of purchase. After further inspection he found more minor cracks and ordered me a completely new top case, hinge cover, lower cover and keyboard for my newly acquired MacBook.
He then booted the MacBook from an external drive and was able to get the hard drive to mount. He did a clean-install of OSX and iLife 08. He also wrote an order for the technician to completely go through the machine and if they found anything wrong with the hard drive they'd replace it.
I was thrilled that he'd gone the extra mile to check out my new (used) purchase and was proactive about seeing how Apple could get it back into shape even though I didn't ask for anything. He also told me to yank my 4GB memory upgrade out of my old MacBook Pro when the data transfer was done since it was third-party RAM. It was time for him to go home, but yet another Genius stepped in to make sure everything was going well with my data migration. He offered to watch all of my gear while I went to grab a slice of pizza.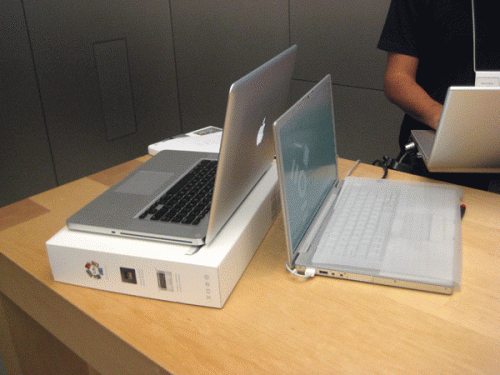 The migration was taking much longer than I'd expected (3+ hours), but I did get to watch how the Genius Bar staff interacted with several customers. All of the customers that were even half-way polite received what I consider excellent service and the staff was extremely patient, often going above and beyond to make sure they walked away with a suitable resolution.
Those that berated the staff or were rude received polite service as well, but were more often than not told they'd have to come back in 2-5 days to pick up their repaired Macs, iPhones and iPods. I'm not suggesting the Geniuses punished the rude customers, but they definitely pulled strings for polite customers and repaired units while they waited in some cases.
Obviously retail stores are costly investments, but I wish more notebook manufacturers had them. The Genius Bar's sense of community, instant diagnosis and quick resolutions are unmatched by any other manufacturer. While I really enjoy my other notebooks I would have had to wait several days to several weeks for a defective display to be repaired after mailing it in. I wouldn't have bought the used MacBook and its previous owner wouldn't have had a few hundred bucks to put towards her new purchase. A guy that bought a MacBook Air in the morning that was dead on arrival wouldn't have been able to get a nearly instant replacement when he returned it.
Finally at around 8:15PM the migration assistant finished and my new MacBook Pro was ready to go. I bid good riddance to my old MacBook Pro and took my new MacBook Pro home. I started the afternoon angry and disapointed in Apple, but the level of service impressed me so much I walked away from it all with a smile on my face.
UPDATE (11/9): It was late Thursday afternoon when the Mac Geniuses checked the newly acquired MacBook in for repair and I was told it would be 5-7 days until I'd be able to pick it up since they didn't have all of the parts in stock. I got a call today (Sunday) letting me know that it was ready to pick up and all repairs had gone ok. I'm guessing the parts were ordered on Friday, arrived on Saturday and installed on Sunday.This is a ridiculously fast turnaround- Apple took less than half of the estimated time to complete the repair. Simply amazing.
Advertisement