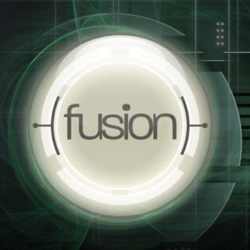 AMD announced the AMD Fusion APU, the latest AMD processor family, at CES 2011 in Las Vegas today. The new Fusion Processors are already slated to appear in the just announced Lenovo ThinkPad Edge X120e ultraportable which will retail for under $400 and claims 65% faster graphics for accelerated web and business performance.
The new AMD Fusion APU Family is actually a combination of a CPU and a GPU which is expected to deliver better overall performance and greater power efficiency which means longer battery life.
AMD has announced two APUs to address two different segments of the user base.

First is the 18W Zacate APU which is design for mainstream notebooks and laptops and can deliver better gaming performance.

Second is the 9W Ontario APU which is a low power processor designed for HD netbooks and small form factor computers which need a processor that is friendly on battery life and doesn't get incredibly hot. AMD claims that the new Ontario APU will deliver 10 times the graphics performance of netbooks on the market today, based on a 3DMark score when compared to an Intel Atom N450.
Both of these processors claim to deliver over 10 hours of battery life which will be impressive if it actually translates into real world numbers when the processors hit laptops later this year.
AMD expects that the new Fusion line will fit into the plans of OEMs to deliver laptops in the under $500 category that meet the needs of users without compromise.
Based on the price point it looks like the AMD FUsion line will focus on a different segment than Intel's Second Generation Core i family of processors and based on the data it looks like Fusion has a chance of delivering a competitive user experience.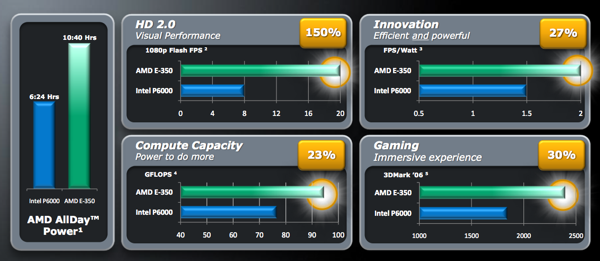 To help consumers make a choice on the sales floor AMD is continuing the AMD VISION program which is aimed at helping users find a computer that will meet their needs based on the VISION rating. This program hasn't proven to be a great help during 2010 as the processor choices and sales floor staff knowledge was lacking, but AMD is hoping that a new push at the point of sale and increased online awareness.
AMD also announced the new AMD Radeon HD 6000M series GPU at CES 2011 which offer increased performance and new power saving features.
Advertisement