The Scoop
Lenovo's ultrabook embodies many of the best aspects of this new notebook category, including a seriously thin design coupled with impressive performance. The design is singular instead of following the Air-clone crowd, with a Clementine Orange option that stands out. Still, the IdeaPad U300s excludes several features to keep the size and cost down, including some needed ports and a backlit keyboard. Even at that, it never reaches the sub-$1000 goal.
Pros
A combination of eye-catching design with robust performance and decent battery life. Plus this ultrabook includes useful software and very little crapware.
Cons
Due to the design, users can't replace the battery or upgrade RAM. Though the clickpad is large and does the basics well, it's finicky when it comes to multitouch. The keyboard lacks backlighting. Several important ports aren't included.
Lenovo IdeaPad U300s | $1,499 | Ultrabook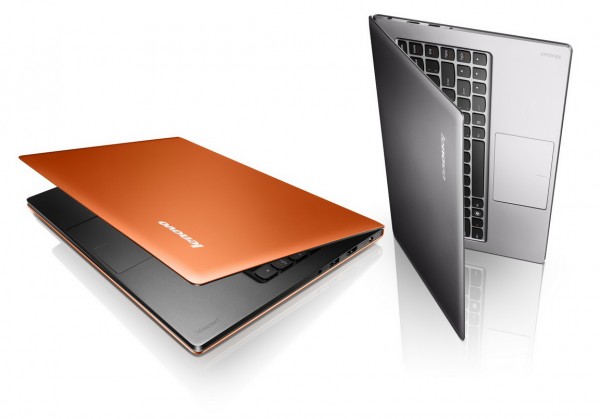 Quick Specs
Our Lenovo IdeaPad U300s review unit has a 1.8-GHz Intel Core i7-2677M processor backed by 4GB of RAM, Intel's GMA HD 3000 integrated graphics and a 256GB solid state drive (SSD). The 13.3-inch glossy display has a resolution of 1366 x 768. Connectivity includes an 802.11b/g/n Wi-Fi card and Bluetooth 2.1+EDR. It runs Windows 7 Home Premium 64-bit.
Who is the Lenovo IdeaPad U300s For?
Ultrabooks are aimed at consumers looking for a notebook that is both very light and reasonably powerful. The U300s is particularly suited to the latter task thanks to the inclusion of the Core i7 processor. Since this is the ultra low voltage version of the chip, it's not the notebook to get if you're looking to do heavy-duty gaming or video editing. It is a good choice if you're a major multitasker with programs that hog the processor a bit, like Firefox.
Design and Build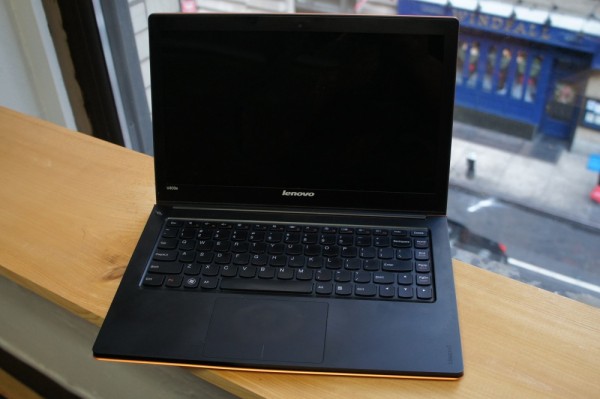 With the U300s, Lenovo proves that an ultrabook can look good even if it doesn't copy the MacBook Air design. Instead of a slim chassis that tapers, this IdeaPad looks similar to other notebooks in the line. This bit of aesthetic loyalty is pleasing, especially since it makes the U300s stand out in the crowd.
This 13.3-inch ultrabook looks like a thinner version of the 12.5-inch IdeaPad U260 right down to the orange color on the lid and bottom. (It's available in silver as well.) Instead of tapered edges, you get square ones with rounded corners. Lenovo makes it work, somehow. The aluminum body has a nice tactile feel to it and doesn't pick up fingerprints on the outside.
The unibody design has aesthetic value, but also means that users can't replace the battery themselves or add extra RAM.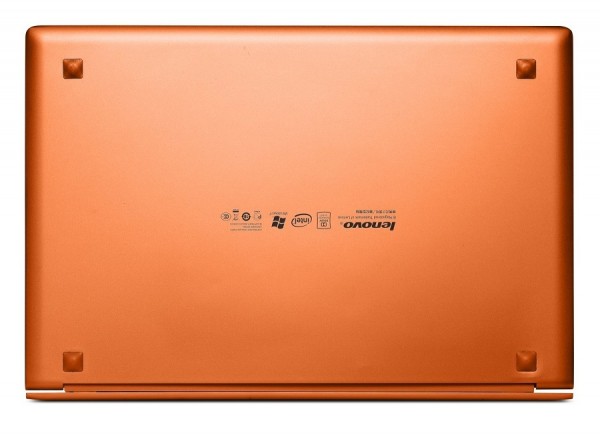 Measuring just 12.8 x 8.5 x 0.6 inches and weighing 3 pounds, the U300s definitely fits the ultrabook ideal of ultra thin and light. Picking it up by a corner – something I did often – I could feel how sturdy it is. Don't pick it up by the lid, though, as you'll see some alarming flex due to it being so thin.
A sacrifice many ultra thin notebooks must make is in number and size of ports. The U300s has two USB ports – one 2.0 and one 3.0 – a full-size HDMI port, and a combo headphone/mic. That's it.

No Ethernet, no card reader, no VGA. This is pretty disappointing given that other ultrabooks such as the Toshiba Portege Z835, the ASUS Zenbook, and the Acer Aspire S3 include most or all of the missing ports.
The only real mark against the 13.3-inch display is the 1366 x 768 resolution. Yes, it's standard, but I wish there was at least an option for greater resolution, especially for a notebook that is capable of being a primary system for many.
The glossy screen doesn't do well in the sunlight or under annoying fluorescents. Indoors the viewing angles are wide enough for two people to comfortably share the screen to watch a movie. Vertical angles aren't wide enough for comfortable use on an airplane tray table in coach, though you don't have to push it much past the 90 degree mark to see the best of the rich colors and deep blacks.
Keyboard and Touchpad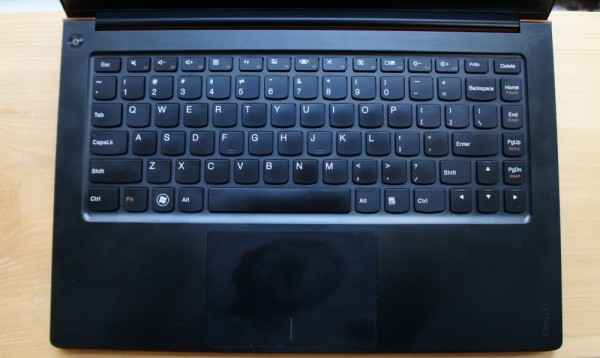 The island-style keyboard on the U300s is standard for recent IdeaPad models and looks like the one found on many new ThinkPad laptops. However, IdeaPad keyboards usually lack the strong tactile feedback and springy travel of their business cousins, and the U300s is not the exception.
Keys are spaced well and at least have a gentle dip to improve accuracy for touch typists and messier hunt and peckers. However, the travel is pretty shallow and there's little tactile feedback.
Lenovo chose to put the Home, End, Page Up and Page Down buttons along the right edge as well as leaving the arrow keys full-size. This results in smaller than normal Backspace and Shift keys. Too often I hit the Home key when reaching for Backspace and missed Shift when in a hurry.
As this is a consumer notebook the media keys are one press away with the Fn key needed to get at the Function keys along the top.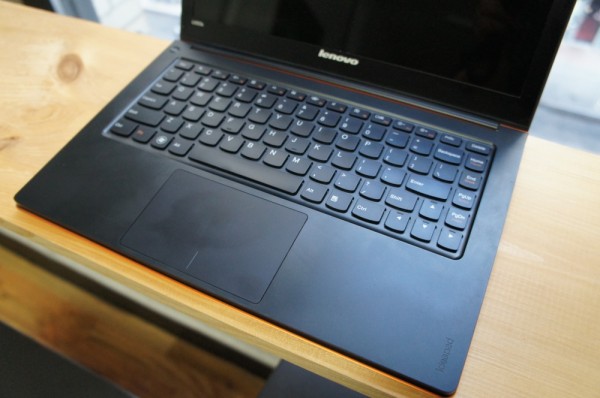 No backlighting on the keys, alas.
One MacBook Air-esque feature did sneak in: a large Clickpad instead of a more traditional touchpad and mouse buttons. The wide surface means not having to lift your finger much to move around the screen. The bottom of the pad has clicky integrated left and right mouse buttons but tap to click was very responsive.
Multitouch gestures are available, though not as easy to execute as I'd like. I stopped trying to two-finger scroll because it was just faster and easier to tap the PgUp and PgDn buttons. Flicking three fingers left or right bring up some extra screens, such as a sticky note app, but don't do really useful tricks like OS X.
I had to fiddle with the sensitivity on the touchpad to keep my cursor from jumping as I typed, which didn't help the multitouch.
Features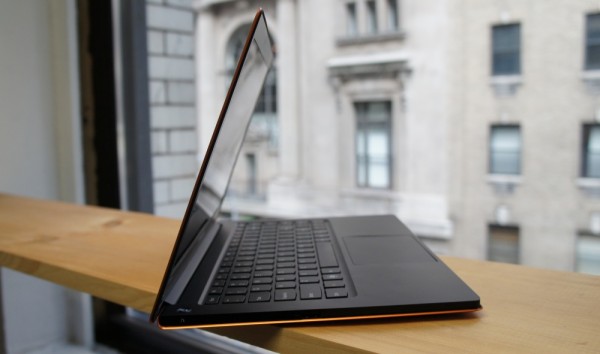 One Key Recovery — a small key on the left side activates this useful backup and restore utility. The software utility is simple to understand and use, even for novices.
Intel WiDi — Intel's wireless display technology allows users to project the IdeaPad's screen onto an HDTV via a separately sold adapter.
Software — Thankfully, there isn't much crapware on board this notebook. The programs that are included are actually useful: Microsoft Security Essentials, SRS Premium Sound, Google Chrome. Trialware includes 30 days of Computrace LoJack for Laptops and Absolute Data Security.
Performance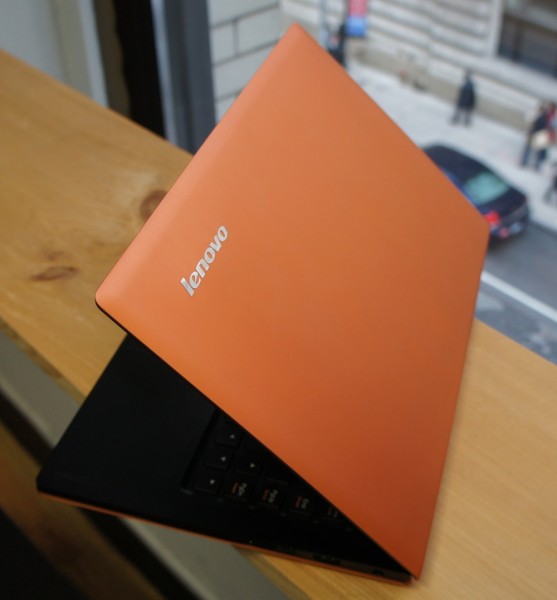 Ultrabooks were never meant to be powerhouses, though they aren't supposed to be as basic as netbooks. The U300s will deliver just fine for most users with this configuration — 1.8-GHz Intel Core i7-2677M (Sandy Bridge) processor, 4GB of RAM, 256GB SSD. Apps open in seconds thanks to the fast SSD, and the system handled multitasking well. I was able to run Mozilla Firefox and Google Chrome with upwards of 10 tabs in each at the same time without noticeable lag or struggling.
When editing large images the notebook didn't hesitate when cropping, applying filters, etc. Editing HD video taxed the system visibly, though it finalized my 10 minute project in under a half an hour. Depending on how many programs you have open, the U300s can resume from sleep in as little as 3 seconds, though sometimes is took as long as 20.
Due to the integrated graphics meaningful gaming is right out. Even Flash-based Facebook games like Zuma Blitz and Bejeweled Blitz didn't run as smoothly or speedily as I like.
Lenovo included several power profiles to help users squeeze more hours from the battery or bump performance when needed. While using the notebook to write, post to blogs and social networks, and stream music, it lasted a little under 5 hours with the screen brightness at 40%. However, on the Laptop Magazine Battery Test (constant web surfing over Wi-Fi at 40% brightness) the ultrabook lasted 6 hours and 18 minutes. With the ultra power saving feature on I was able to use the notebook for 4 hours and only got down to 35% battery.
The Competition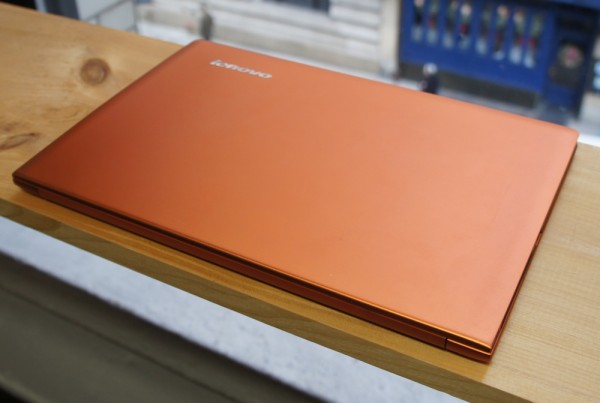 The U300S comes in two configurations. Our review unit retails for around $1,499. A model with a 1.6-GHz Intel Core i5-2457M processor, 4GB of RAM, and 128GB SSD retails for $1,050. However, if you buy through Lenovo.com you'll pay a lot more.
The less expensive config will suit most mainstream users who aren't heavy multitaskers and who don't edit heavy duty projects.
Lenovo IdeaPad U300s vs. Apple MacBook Air 13-inch
Apple's MacBook Air line is obviously the template for the ultrabook concept and the summit to which many PC makers aspire. Lenovo avoided making their entry into an obvious Air clone on the outside, though both have similar internal specs. An Air with a Core i7 CPU and the same amount of RAM and internal storage costs $1,699, $200 more than the U300s.
What do you get for that extra cash? A 1400 x 900 pixel display, backlit keyboard, an SD card slot, a Thunderbolt port in addition to two USB 2.0 ports, and Bluetooth 4.0.
Lenovo IdeaPad U300s vs. Toshiba Portege Z835
The Toshiba Portege Z835 costs just $849 at Best Buy and includes an Ethernet port, a memory card slot, an extra USB port plus backlit keys. It also weighs less than most netbooks (2.47 pounds). However, it's powered by a Core i3 processor and has no Bluetooth.
Consumers looking for a notebook that performs basic tasks with aplomb won't mind the less powerful processor. However, for multitaskers, the Portege at that price isn't as good a choice.
Advertisement