The Toshiba Satellite L655D-S5164RD is a 15.6″ quad core consumer notebook that is aimed at users with a need for a lot of processor power, but it is limited in its ability to game by a rather meager video card. If you are looking for a notebook that packs some power in the processor department and you aren't too concerned about all day battery life or the ability to game then this notebook might be a good fit for you.
Toshiba Satellite L655D-S5164RD Quick Specs:
The Toshiba Satellite L655D S5164 notebook we have in for review has a 1.8GHz AMD Athlon II Quad Core mobile processor and an ATI Mobility Radeon HD 4250GPU with 256MB RAM. The notebook has 4GB DDR# RAM and a 640GB hard drive as well as a DVD burner. Teh 15.6″ display has a 1366 x 768 resolution and includes a built-in webcam.
Who is the Toshiba Satellite L655D-S5164RD For?
The Satellite L655D-S5164 is a notebook that is designed for a user that needs a quad-core processor to get work done and doesn't mind the tradeoffs in battery life and a loud fan. This system isn't going to be a good fit for users who mainly want to surf the web while watching TV as the fan will be too loud to enjoy your show.
Toshiba Satellite L655D-S5164RD Hands On Video:
Toshiba Satellite L655D-S5164RD Build and Design:
Overall the build and design of the Toshiba Satellite L655D-S5164 is pretty nice. We like the look of the red which is striking, but not overpowering. The lid is glossy, which does mean that you will leave behind some fingerprints, but the pattern does a good job of disguising many of them.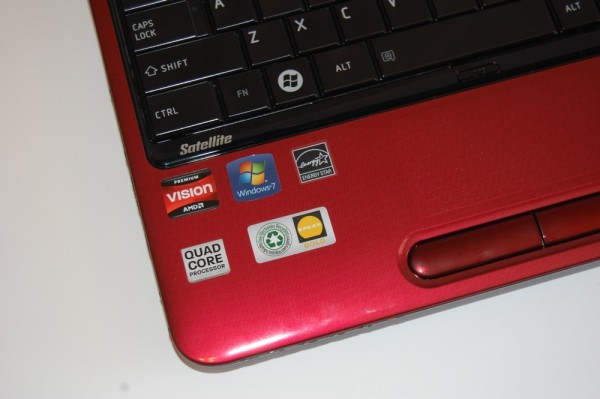 The deck and the palmrest are also nice looking with the same red as the lid and the overall build of the notebook feels very sturdy. The lid has a slight flex when you apply pressure, but the base did not have any noticeable flex when we stressed it.
The hinges on the notebook are fairly sturdy in the open position, but when closed the notebook suffers from the common Toshiba loose lid symptom which affects many of the Satellite models we have tested recently. This isn't a deal breaker, but we wish the lid would stay closed tighter.
Toshiba Satellite L655D-S5164RD Features:
The Toshiba Satellite L655D-S5164 is best defined by the inclusion of a quad-core processor, which isn't very common in consumer notebooks, but as we found out while using the notebook, the overall performance doesn't deliver what we would expect from a quad-core processor.
Toshiba Satellite L655D-S5164RD Display:
The L655D has a 15.6″ display that is glossy like almost every consumer notebook. The 1366x 768 resolution is average, but it is sufficient for this notebook, allowing enough usable area for most users and supporting 720P HD video playback,.
Viewing angles are also pretty good side to side and vertical, which is important because the display doesn't open as much as we would like. This won't be an issues if you use the notebook on a table or desk, but if you use it on your lap often, you will probably wish for a larger opening angle.
Toshiba Satellite L655D-S5164RD Keyboard and Touchpad: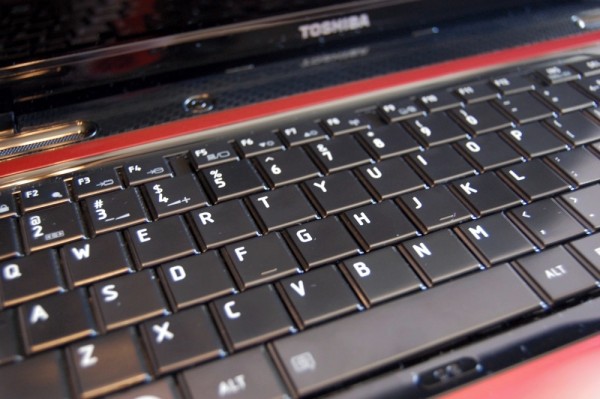 The keyboard on the Toshiba Satellite L655D-S5164 is pretty decent, though it is an older style keyboard and there is a very small spacebar. The key surface has a nice feel to it and the travel and spacing is also pretty good. We like that Toshiba left most of the keys sizing correct. We do wish that the spacebar was a bit bigger, but we were able to adjust after extended use. There is a dedicated number pad which anyone ho works with numbers will appreciate. We like the extra space between the keyboard and the number pad which means you won't accidentally hit numbers while trying to press the Enter or Backspace keys.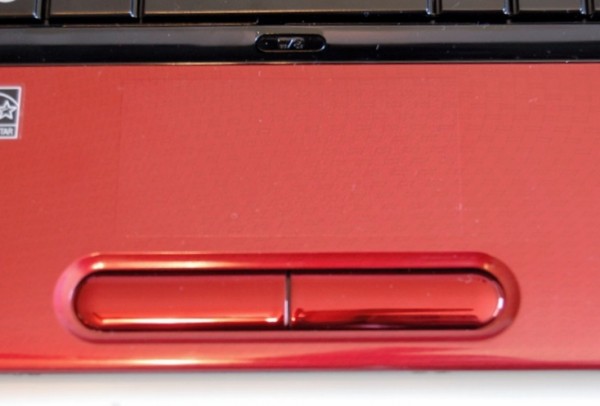 The mousepad has a somewhat small mousing surface, that is blended into the palmrest area, and is flanked by two large dedicated mouse buttons. The mouse supports multitouch gestures like two finger scroll and pinch to zoom. Overall the trackpad performance was OK with good sensitivity and the  responsive multitouch gestures. The two finger scroll was a bit jerky at times, but usable. The pinch to zoom worked better than we have seen on many Windows notebooks. We do wish that the mousepad surface extended to the edges of the buttons, but in the end this is a small issue.
We do like that there is a dedicated mousepad on/off switch right above the mousepad. This is handy for users who have trouble moving the mouse with their palm during long typing sessions. We didn't have issues with palm movement on this model, but like to see these buttons on notebooks.
Toshiba Satellite L655D-S5164RD Processor and Performance:
With a quad-core processor, you wold expect a notebook that would be hard to keep up with, but in the end it was the L655D that had trouble keeping up with our applications. The processor has enough power mind you, but not what we would expect from a quad-core processor.  Thanks to the limiting graphics option, you can't even draw on the quad-core CPU to handle gaming.
Toshiba Satellite L655D-S5164RD Multimedia and Gaming:
For watching multimedia such as Hulu or Netflix the L655D-S5164 has enough power, but you won't be playing any games on the ATI Radeon GPU which only has a paltry 256MB of RAM. We tried to play Just Cause 2 which is playable on the new 2nd Gen Intel Core i platform with integrated graphics, but we had to give up after the intro animation couldn't even render correctly on low settings.
Toshiba Satellite L655D-S5164RD Audio and Speakers
The notebook does deliver a surprisingly good audio experience for watching movies or listening to music even though it has standard stereo speakers. This is thanks to Dolby Advanced Audio which helps to deliver a sound that is loud enough to use without external speakers at a decent quality. We did notice that the mid-range could get a bit muddy at times, but overall it is a decent sound system — and it is loud enough to overpower the fan.
Toshiba Satellite L655D-S5164RD Heat and Noise
The Satellite L655D did get  little warm while we used it on our lap, but not enough tat we absolutely needed a laptop cooling pad. The palmrest and the keyboard did not get noticeably warm during standard use.
The cool-ish temperatures are thanks to the heavy duty fan found along the left side of the notebook which runs almost all the time, even when you are just browsing the web. The fan is loud enough to be noticeable while trying to watch TV, even to the person sitting next to you.
Toshiba Satellite L655D-S5164RD Battery Life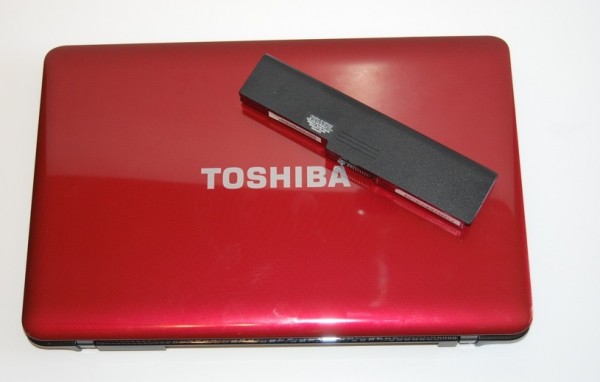 The Toshiba Satellite L655D-S5164 has a 6-cell battery which lasted just over 3 hours in our battery test which visits popular websites over WiFi with the screen set at 40% brightness. This is about standard for an AMD Quad Core notebook, but it is low by most of today's standards and  is a factor to consider.
Toshiba Satellite L655D-S5164RD Connectivity:
The Satellite L655D has a pretty standard collection of ports, drives and connectivity options including those pictured below and WiFi b/g/n.

Left side: Vents, Ethernet, VGA, eSATA/USB 2.0, HDMI, Mic, Headphone


Right Side: USB 2.0, USB 2.0, DVD Drive, Power, Kensington
Front: SD Card
Back: Battery
Toshiba Satellite L655D Webcam: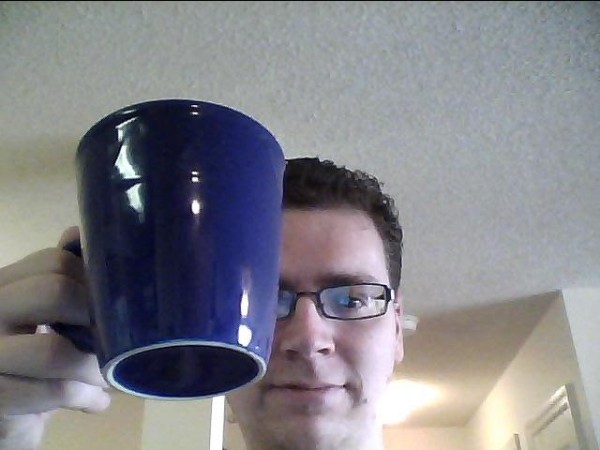 As you can see in our sample image, the L655D's webcam does deliver a bright image, but we found the colors to be a bit lacking and the 640×480 image also left a bit to be desired. If you only do occasional video chat's this camera will suffice, but if you use ti everyday to keep in touch with friends or coworkers you will want to look for an external HD webcam.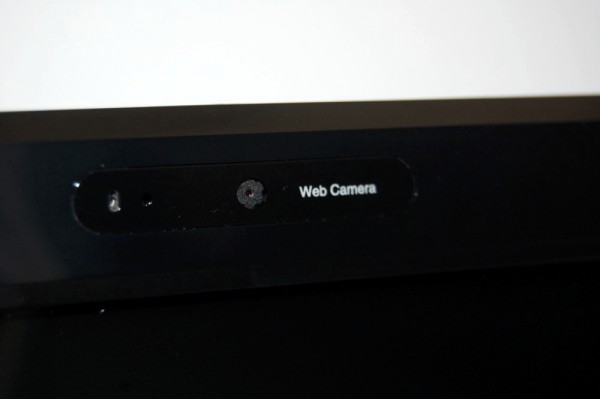 Toshiba Satellite L655D Software:
The Toshiba L655D-S5164 comes with a decent amount of good software pre-installed including Microsoft Office Starter, Chrome web browser, Skype and some Toshiba items like Toshiba Reel Time which lets you get access toe recent documents, App Place which gives you a place to get software and Toshiba Book Place which gives you access to an eBook store. Another nice touch is the inclusion of facial recognition software.
One tool we didn't like was the Norton Internet Security app, which asked us to upgrade way too often and as usual does a good job of hiding the close and no options on popups.
Toshiba Satellite L655D-S5164RD Value:
Based on the overall package, the Toshiba Satellite L655D-S5164 isn't a bad notebook, but the performance and price of $649 don't line up, resulting in a rather expensive notebook for what you get.
Toshiba Satellite L655D-S5164RD Conclusion:
The Toshiba Satellite has several standout features, but in the end the lackluster performance, loud fan and high price tag leave this notebook as one we would be hard to recommend at $649. The build quality is nice and most of the features are there, but in the end the average performance leaves us with an average notebook at a premium price.
If you like the look of this notebook, you should look for the lower spec'd and better priced versions of the Toshiba Satellite L650 which can be found at Toshiba.com and on Amazon for under $500. These notebooks don't have quad-core processors, but look to offer a better value.
Pros:
Good Build Quality
Nice Keyboard
Cons:
Low Performance for Quad Core
Loud Fan
High Price
Small Spacebar
Toshiba Satellite L655D-S5164RD Gallery:
Toshiba Satellite L655D-S5164RD Detailed Specs:
AMD Phenom II Quad-Core Mobile P960 processor 1.8GHz, 2MB L2 Cache
4GB DDR3 SDRAM system memory (expandable to 8GB)
640GB SATA hard drive
ATI Mobility Radeon HD 4250 Graphics with 256MB-1917MB dynamically allocated shared graphics memory
SuperMulti DVD Burner with LabelFlash
10/100 Ethernet
802.11b/g/n Wireless LAN
15.6″ widescreen TruBrite TFT display
Webcam and microphone
6-in-1 memory card reader
2 x USB 2.0 ports, 1 x RGB port, 1 x USB 2.0+eSATA combo port, 1 x headphone output port, 1 x microphone input port, 1 x RJ-45 Ethernet port, 1 x HDMI port
6-cell lithium-ion battery
Advertisement