For the most part, mobile broadband is a costly service. While many of us have reasonably priced data plans on our phones, USB adapters, MiFi devices and even tethering can easily add $20 to $60 to a wireless bill as part of a monthly contract. A monthly mobile broadband subscription may be OK for traveling professionals, but for those of us who don't hit the road every month or need a lot of bandwidth the contract mobile broadband solutions are often wasted.
That's where BroadBand2Go comes in. This Pay-as-you-go mobile broadband service from Virgin Mobile offers 3G data connections with a $99 USB adapter for rates as low as $10 and as high as $60 for 5GB of data.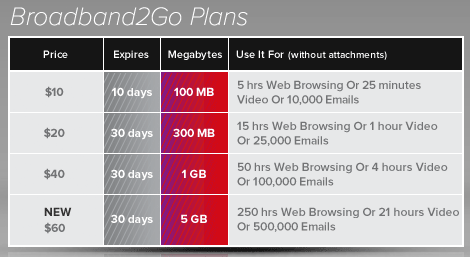 Virgin Mobile sent one over for us to test out and I will be putting it to use on my daily commute and then on a trip later this month to see how it holds up under what would be normal use for a pay-as-you-go data device.
Usage:
So far I have been using this connection in the passenger seat on I 75 for a 30 minute commute to get some extra work done. I haven't pushed its limits trying to stream video or anything like that, but have used it to get work done. The current subscription is 300MB for 30 days at a cost of $20. With this plan I have been able to continue covering the iPhone 4 WWDC announcement on the road, answer a few critical emails from my dayjob and get work done fast.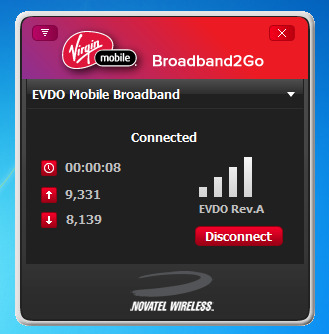 Speed:
The speed of the Virgin Mobile BroadBand2Go adapter varies depending on the signal you receive and officially will be between 600 kbps and 1400 kbps. In my numerous tests with SpeakEasy's speed test this is an accurate description. When I was in a stationary location I had tests between 764 kbps and 1,290 kbps (1,29MB per second). When driving along I 75 in Northwest Ohio there were ups and downs in speed but I averaged between 550 and 775 kbps. Next week I will test out the service in southern Ohio and in Atlanta, GA to see how speeds are outside of my daily commute.
Installation:
Installing the BroadBand2Go USB adapter and connecting is as simple as can be. Plug in the modem, install the software that is on the device, surf the net. In all the installation took about 5-7 minutes which is great considering the potential for this device to serve a family of infrequent travelers or a small business that doesn't need a dedicated connection. I could switch between the Toshiba e205 I just reviewed to the HP Mini 5102 that just arrived in a matter of minutes and keep working which is an incredible luxury. The device also has a Micro-SD slot which you can plug your own Micro-SD card into and use as a thumbdrive which is a handy feature for taking an important file with you.
So far I am loving the USB adapter. I do have a wireless tether app installed on my rooted Droid, but the simplicity of the USB device is appealing. I also like that I don't have to worry about draining my phone's battery. We'll be putting the device to the test in the next week and sharing a full review of the BroadBand2Go adapter from Virgin Mobile soon. For more details on the BroadBand2Go service visit our previous coverage.
Advertisement