The iPad seems like a sturdy device, but it is also a big piece of glass. For that reason, I ordered the Apple iPad case to protect it from … well me! It finally arrived a few days after the device. This was a slight annoyance since they were on sale in the Apple store on Saturday. For three days I was very nervous carrying my iPad around. But finally, it is protected.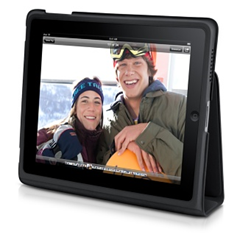 In this video I install the case and test how well it serves to hold the device while typing with the Apple Bluetooth keyboard. Please take note of the annotations on the video.
The case is a little expensive at $39.00. It feels like it will protect the iPad well, but the surface collects dust. That means it matches the iPad, which collects finger prints. The edges around the case, where the manufacturer stitched the pieces of material together, protrude to make it a little uncomfortable to hold. It also makes it hard to get at some of the controls, especially the switch that locks the aspect ratio. And the flap that covers the opening where you slide in the iPad gets in the way as you hold it with the cover folded back. The flap that I mistakenly complain about in the video is actually meant to be tucked behind the iPad. As a result you cannot see any of the silver case and it looks much better and feels much better in your hands.
Pros:
Microfiber won't scratch screen or back of iPad
Sturdy feel means it shouldn't fall apart quickly
Functional as it serves to hold the device up for typing on a flat surface
Cons:
Collects dust
Edges make it uncomfortable to hold the iPad while in the case and to get at some controls

No

Poor instructions on how to use it for us dumb people
Wobbly when holding the iPad in vertical modes

Flap on inside gets in the way

(This is not an issue now that I learned how to tuck it in behind the iPad)
Advertisement