Netbook sales have slowed some this year probably due to the popularity of the upstart tablet category that is being driving by the Apple iPad, recently called the fastest selling electronic device ever." But despite what some have said about the iPad eating away at netbook sales figures, they are still growing. This is all based on numbers from ABI Research. They reported that more than 11 million media tablets" will likely be sold this year. 43 million netbooks will ship in the same time frame.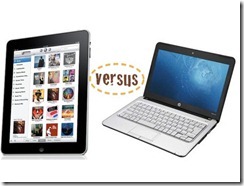 Last year the netbook was the hottest computer market and estimates had that trend continuing. But then Apple introduced the iPad which has sold well. Jeff Orr of ABI estimates a few million" of the 10-inch tablet running iOS. He said that the slow down in netbook sales is good growth, just not the meteoric pace of the past couple of years."
Despite the iPad's popularity and other similar competing devices, only 11 million is not a mass market" which ABI says would have to hit 40 million yearly to hit that mark.
However, Apple has been going it mostly alone. The new Samsung Galaxy Tab set to be released soon along with other promised Windows 7 and Android tablets might push the numbers higher next year. Other potential contributors to the numbers in 2011 are a slate from HP running either Windows 7 or Palm or both and Blackberrry's promised PlayBook.
Advertisement