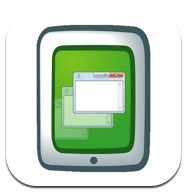 If you've been jealous of all the Mac users who have been able to use their iPad as a wireless monitor with Air Display while you wait for the Windows version it's time to celebrate. MaxiVista, a competitor, has released MaxiVista for iPad which allows you to use the iPad as a wireless monitor with Windows.
MaxiVista (iTunes) is available in the iTunes store for just $9.99 and acts just like an extra monitor after the server software is installed on your notebook. The software is compatible with any 32/64-Bit Windows XP/Vista/7 computer; the iPad and the computer just need to be on the same network.
You can display video on the iPad with MaxiVista, but the results will be a little choppy. It is better suited for documents, Skype, Tweetdeck or activities of that nature. MaxiVista for iPad can be used in portrait or landscape mode and will switch automatically when you rotate the iPad is you don't have the orientation locked.
How to Use Your iPad as a Wireless Monitor:
I have previously used MaxiVista to turn a notebook into a second monitor when I travel with more than one computer. The release of MaxiVista for iPad is perfectly timed for the Notebooks.com Road Trip which will start later this week. Now I can use my iPad as a second display to give me more screen real estate when using the Toshiba R705.
MaxiVista using a notebook as a second monitor:
Via JKOnTheRun
Advertisement